Netherlands delivers medical eqpt and technology to Ukrainian Border Guards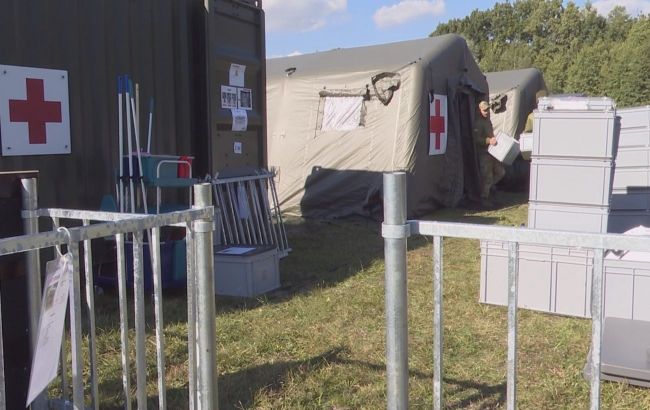 Illustrative photo (Photo: dpsu.gov.ua)
The Netherlands has delivered a shipment of medical equipment to Ukraine, including four ballistic armored stabilization and diagnostic modules, and a dental office, according to the State Border Guard Service of Ukraine.
"We have received stabilization and diagnostic modules, which will be used at the front. Inside the module, there is everything necessary for performing various operations, including complex ones," says Anatolii Kovalenko, the head of the medical support department of the Steel Frontier brigade.
It is noted that these mobile complexes are supplied by the manufacturer Hospitainer under the government program and in coordination with the Embassy of the Netherlands in Ukraine to enhance the medical capabilities of the Ukrainian Defense Forces during the ongoing aggression.
The medical equipment, specifically the stabilization and diagnostic modules of medical support, which correspond to the NATO Role 1, Role 2 Basic, and Role 2 Enhanced mobile medical unit classifications, are already in service with border medics and are being used as intended to save lives.
Photo: Assistance (dpsu.gov.ua)
A representative of Hospitainer, Bart Kruijsen, added that the company has already delivered 9 of such hospitals to the Ukrainian military and plans for 12 more.
What does the State Border Guard Service say about this assistance
Modules are highly mobile, protected, autonomous, highly intelligent, and equipped with everything necessary to provide quality medical assistance for an extended period. These hospitals are all-season, equipped with all the necessary equipment and medications. They can provide first aid, perform operations, and set up stationary facilities.
"It is a complex that consists of several modules - diagnostic and therapeutic. The modules are equipped with the necessary materials, tools, and equipment to provide assistance," says Oleksandrr Solobchuk, the head of the health service of the Steel Border brigade.
According to him, this is a highly mobile complex that can be deployed in any area, provide assistance to soldiers, and quickly pack up and move to another location to provide assistance.
Assistance from the Netherlands
The Netherlands is one of Ukraine's allies in the war against Russia. Amsterdam provides both military and economic support to our country.
Recently, the Netherlands announced the transfer of a new package of military aid to Ukraine, which includes demining equipment, ammunition, and drones.
Acting Prime Minister Mark Rutte also stated that the Netherlands would provide new military assistance to Ukraine to protect the energy and grain corridor. This includes the supply of projectiles for the Patriot anti-aircraft missile system.