Natural process: How war returns to Russian territory and its implications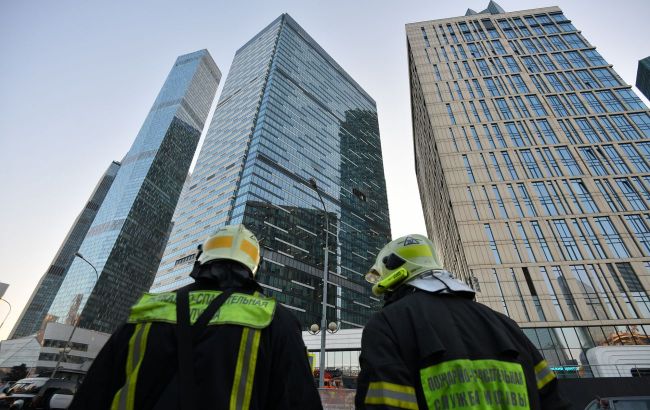 "Moscow City" Tower after drone attacks on August 1 (photo: Getty Images)
News of explosions, arrivals, and destruction has become familiar not only to Ukraine but also to the Russian Federation. Increasingly, events "beyond the border" resemble frontline reports.
In response to strikes on Russian targets, the Ukrainian side reacts cautiously, often denying involvement since the aggressor country is held accountable for everything that occurs on Russian territory.
At the beginning of March, following incidents involving unidentified drones, Secretary of the National Security and Defense Council, Oleksiy Danilov, stated that Ukraine has no knowledge of what is flying and coming from where, and who is causing the "disruption."
"I can assert one thing: if they (the Russians) believe that they can enjoy peace while keeping us on edge, they are gravely mistaken," he emphasized.
Since then, the frequency of incidents has escalated, and their scope has expanded well beyond border regions, encompassing distant locales such as St. Petersburg, Moscow, Krasnodar Krai, and beyond. Just last week, Danilov explicitly affirmed that more is yet to come.
According to his remarks, with each fresh task, kamikaze drones, aerial and maritime, become increasingly precise, operators more seasoned, and combat coordination more effective. It's highly likely that August will prove exceptionally favorable for "Ukrainian hunters."
"Further, there will be an expansion of the scale, range of combat operations, and the level and severity of Russian losses. Russian targets are the best testing ground for Ukrainian weapons and their promotion on a global level," stated the Secretary of the National Security and Defense Council.
Photo: President Volodymyr Zelenskyy refers to the explosions in Russia as a natural and inevitable process (Vitaliy Nosach/RBK-Ukraine).
The conflict initiated by Russia is now encroaching upon its own soil. President of Ukraine, Volodymyr Zelenskyy, observes that this unfolding is a natural and inevitable course, given the financial and strategic bankruptcy of Russian aggression on the battleground.
"Ukraine is strengthening its position. Step by step, the conflict is shifting back onto Russian soil, encompassing its symbolic hubs and military installations. This progression is both unavoidable and natural, a just course of events," he emphasized.
RBC-Ukraine provides the most emblematic confirmations of this.
Moscow has become a target for drones
During the night of July 24, drones reached nearly the central part of Moscow. Debris from one of them was discovered on Komsomolsky Avenue, near the buildings of the Ministry of Defense and the main intelligence agency.
In this area, there is a military university as well as several classified facilities, including the headquarters of GRU cyber-attacks. Another drone hit an unfinished business center.
RBC-Ukraine sources have disclosed that the drone attack was a meticulously orchestrated maneuver executed by our military intelligence, resulting in all drones hitting their designated marks. Though lacking official confirmation, the Air Force underscored the limitations of their radio-technical capabilities in detecting targets at such extended ranges. Consequently, all inquiries are directed toward intelligence, which remains disinclined to disclose its strategies.
Another series of explosions shook Moscow on the night of July 30. According to the Russian Ministry of Defense, the drone attack was allegedly repelled, and local media reported a downed drone in the Odintsovo District of the Moscow Region. Supposedly, two more were suppressed using radio-electronic countermeasures.
They were suppressed to the extent that they crashed into the "Moscow City" business center. Local Telegram channels reported hits on the so-called "Ministers' Tower," where the offices of three Russian ministries - the Ministry of Economic Development, the Ministry of Industry and Trade, and the Ministry of Communications - are located.
"Russia always has something in the air. While some may have believed the war didn't affect them, it's now a reality. There's a distinct feeling in Russia - something takes flight, and it's conspicuous... Thus, discussions of tranquility in the Russian heartland are no longer relevant. They are facing the consequences they sought," remarked Yurii Ihnat, spokesperson for the Air Force.
Remarkably, federal television channels disregarded the explosions and opted to broadcast a naval parade in St. Petersburg featuring Vladimir Putin.
During the night of August 1, an unidentified UAV once more approached a tower within "Moscow City," and several drones were observed over the suburbs just prior to the incident. Subsequently, Mykhailo Podolyak, an advisor to the Head of the President's Office, anticipated that the conflict would imminently extend to Russian soil. In apparent validation of his forecast, Russian air defense systems were reactivated this morning in response to incoming objects near Moscow.
Oleksandr Kovalenko, a military-political expert with the "Information Resistance" group, highlights that virtually every district in the Russian capital hosts facilities with ties to the military-industrial complex, the army, or security structures.
"When discussing 'Moscow City,' the IQ Tower, which has been targeted by drones twice, houses ministry offices. Notably, the Ministry of Industry and Trade, responsible for military-technical endeavors, including reconnaissance-strike UAVs like the 'Forpost-RU,' is situated there," he disclosed in a statement to RBC-Ukraine.
In his assessment, these strikes could have disrupted the regular functioning of these ministries for a period of 1-2 weeks. Such a timeframe is significant enough to potentially impact project execution.
"I am absolutely confident that the influx of drones will continue to rise in numbers and will occur at a systemic level," the expert emphasized.
Irrespective of the circumstances, such attacks continue to unsettle the residents of Moscow. On the evening of August 7, the presence of several drones hovering over the city triggered a sense of panic, leading to the swift response of both the police and special services at the scene. Subsequent investigations disclosed that these drones had been launched as part of training exercises by personnel from the federal security service, who were simulating the escort of Putin's motorcade.
Factories are also targets
Unusual incidents are unfolding even within Russian factories. While fires at a battery plant, a sports products factory, a facility producing counting and analytical machines, and an industrial zone with auto repair shops near Moscow may not attract significant attention, several other cases are directly connected to the reverberations of the ongoing war.
Last week, an explosion rocked the Votkinsk Plant in Udmurtia. While initial reports on social media suggested a drone strike, these claims remained unverified. The plant's official statement indicated that the blast occurred during testing of a specific device. However, what could have been a routine incident gained significance when sources indicated that the explosion affected a building involved in the assembly of Iskander-M missiles, destined for the war against Ukraine.
Yesterday morning, an explosion rocked the Zagorsk Optico-Mechanical Plant in Sergiev Posad, located in the Moscow region. The incident took place at the storage facility of the company "Pyro-Ross," which is a subsidiary of the "Rostec" holding. This plant plays a crucial role as a prominent producer of surveillance equipment utilized by security forces and various industries.
Soon after the explosion, images depicting the aftermath of a significant blast in the Moscow region started circulating widely on the internet.
According to the CEO, Sergey Chankaev, sounds of drones were allegedly heard before the explosion. However, emergency services attributed the incident to a "human factor." As a result, dozens of individuals were injured, and as of August 10, 12 people are still missing.
It's noteworthy that this plant is involved in the development program of a new strategic stealth bomber, the PAK DA (Prospective Aviation Complex for Long-Range Aviation). The plan was for this aircraft to replace the lineup of long-range aviation planes, including the Tu-22, Tu-95, and Tu-160, which are known for launching long-range missiles toward Ukraine.
In response to these explosions, Andrii Yusov, a representative of Ukrainian military intelligence, referred to them as "divine retribution" and the consequences of a full-scale invasion.
"This indicates that Putin's regime is progressively losing its grip on the situation within Russia. Rather than securing their own territory and skies, they are involved in a genocidal conflict against another sovereign nation," he emphasized.
According to Oleksandr Kovalenko, if one considers the possibility that the plant could have been a target, it's more likely not due to the PAK DA project, which has only existed on paper for a long time.
"The facility specializes in optics, including those for military aviation and ground forces. Theoretically, an attack on it could have been aimed at disrupting the production of optics for tanks, fighter jets, and attack helicopters," the expert believes.
Rockets go rogue
On July 28, an equally captivating incident unfolded. A rocket descended upon the heart of Taganrog, a border town nestled within the Rostov Region, positioned roughly 150 kilometers away from the frontline.
The repercussions proved extensive, as the rocket's impact dismantled walls and the art museum's roof, shattered windows within a residential complex and wreaked havoc upon garages and ancillary buildings. Notably, even the esteemed "Chekhov Garden" restaurant encountered damage. The blast site bore witness to a substantial crater measuring 5 meters in diameter. Distressingly, reports emerged highlighting the toll on human lives, with casualty figures surpassing 20.
Russian independent media offers detailed insight into the incident, locating it just 2 kilometers from the port and 10 kilometers from the airbase, Where Tu-95 bombers and UAV launch pads were stationed. Authorities allegedly suggest a missile strike originating from the S-200 air defense system, adapted for ground targets.
Notably, this announcement follows Ukraine's claim of deploying its own advanced medium-range air defense systems. Ehor Chernyev, Chair of the National Security and Defense Committee of the Verkhovna Rada, indicated these systems bear a striking resemblance to HAWK complexes, which themselves share visual similarities with the S-200.
Formally, authorities in Kyiv attribute the strike on Taganrog to potential inadequacies in the performance of Russian anti-aircraft systems.
"The events in Taganrog are nothing but a display of utter incompetence by operators of Russian air defense systems," noted Oleksiy Danilov, hinting at the possibility of it being a Russian missile.
Military expert Oleksandr Kovalenko casts doubt on the S-200 missile version, as these systems have long been decommissioned. However, if anything remains in storage and is somehow being utilized, it's possible that the broader public may not be informed about it just yet.
Military enlistment offices still engulfed in flames
Ever since the commencement of the full-scale invasion in Russia, military enlistment offices have intermittently become targets of arson. This trend often accompanies civil protest actions across various regions, driven by concerns over the involvement of conscripted soldiers in the conflict and rumors of potential mobilization. Subsequent to Russia's formal declaration of the invasion in the autumn of 2022, a second wave of arson spread throughout the country.
Collectively, within the span of eighteen months, these incidents have exceeded a count of 100. By July, approximately 40 verdicts had been issued in connection with these cases. Notably, certain arsonists have faced accusations of terrorism and received sentences of up to 19 years in prison.
Throughout the summer, instances of arson have escalated, with more than a dozen occurrences documented in August alone. For instance, in Kopeysk and Verkhneuralsk (Chelyabinsk Region), two women hurled Molotov cocktails into the windows of military enlistment offices. Meanwhile, in Moscow, law enforcement apprehended a woman who had tossed a bottle containing an incendiary mixture at the entrance of a police precinct. Additionally, an elderly man was intercepted while carrying five "cocktails" at the entrance of a building.
In Stavropol, a woman attempted to set fire to the door of a local military enlistment office, while in Kazan, an assailant hurled a Molotov cocktail at a military enlistment office vehicle. In Sestrotoretsk (Kurortny District of Saint Petersburg), a woman entered a military enlistment office carrying bags and threatened to set the building ablaze. It seems that such incidents could be recounted endlessly.
The Russian Ministry of Internal Affairs asserts that these actions are instigated by telephone scammers from Ukraine. The typical modus operandi involves contacting individuals and informing them about alleged attempts to take out loans. To prevent this, the scammers suggest retaliating against banks by dousing them in gasoline or throwing Molotov cocktails. They also provide an address, which often leads to a local military enlistment office.
Certainly, in the Moscow suburban town of Podolsk, a 22-year-old manager of a fast-food restaurant ignited a fire at a military enlistment office following anonymous messages alleging a fraudulent credit in his name. These messages also proposed orchestrating a "special operation" at the enlistment office to retrieve the funds.
According to Oleksandr Kovalenko, the notion that Russians, particularly pensioners, could be easily manipulated into targeting military enlistment offices with arson is implausible.
"We understand that a genuine motive must exist. It's conceivable that ongoing processes of compulsory mobilization are taking place in Russia, and these individuals are aware that their offspring and grandchildren could be sent off to war. Hence, they resort to extreme measures. This, in my view, constitutes the underlying reason," he commented in an interview with the article.
Why don't airfields explode
In the midst of recent events, it's crucial not to overlook the significant shifts in the war's geographical landscape that have been unfolding for some time. Notable among these developments are the attacks on strategic aviation airfields.
An illustrative case occurred on December 5, 2022, when explosions shook rear airfields in Dyagilevo and Engels - situated approximately 500 and 700 kilometers from Ukraine, respectively. Reports indicated that drones were responsible for targeting these airbases in the Ryazan and Saratov regions.
The outcome was damage to two Tu-95 bombers at the "Engels-2" base, while in Dyagilevo, a fuel tanker caught fire in proximity to a Tu-22M aircraft. Satellite imagery revealed no direct hits on the aircraft themselves.
Then, in the night of December 26, reports emerged suggesting that a drone had been purportedly shot down over the "Engels-2" airfield, coinciding with unverified reports of three casualties. According to information that has yet to be confirmed, this attack could have potentially targeted the flight control center, resulting in its destruction along with the entire shift, and could have caused damage to multiple bombers.
Photo: Consequences of one of the strikes on the "Engels-2" airfield (satellite image by Maxar Technologies)
It's worth noting that, at that time, official information indicated that Ukraine did not possess long-range weaponry of such caliber. Russian sources asserted that the airfields were reportedly targeted by Tu-141 "Strizh" drones – modified from aerial targets, these kamikaze drones carried more than 100 kg of explosives and had a striking range of up to 1000 kilometers.
It's worth noting that, at that time, official information indicated that Ukraine did not possess long-range weaponry of such caliber. Russian sources asserted that the airfields were reportedly targeted by Tu-141 "Strizh" drones – modified from aerial targets, these kamikaze drones carried more than 100 kg of explosives and had a striking range of up to 1000 kilometers.
Why has the "bavovna" (explosion, ironically) ceased to spread over Russian airfields? According to Oleksandr Kovalenko, the Russians have drawn conclusions and relocated their aircraft to the "Ukrainka" (Amur Region) and "Olenya" (Murmansk Region) airfields, situated thousands of kilometers further away.
"It's worth noting that Ukraine had no connection to these attacks. However, I speculate that due to the considerable distance, Russian aviation isn't susceptible to explosions. Yet, it's crucial to underscore that no explosions have occurred as of now," the expert concluded.
Certainly, at this present stage of the conflict, the attacks on targets within Moscow and other regions of Russia carry significance beyond mere symbolism; they possess strategic implications. Ultimately, they might be a component of a larger strategy aimed at disrupting key "decision-making centers" and military logistics. This approach has already proven effective in occupied territories, notably in the eastern and southern regions of Ukraine.