NATO will strengthen intelligence in the Black Sea region: results of the NATO-Ukraine Council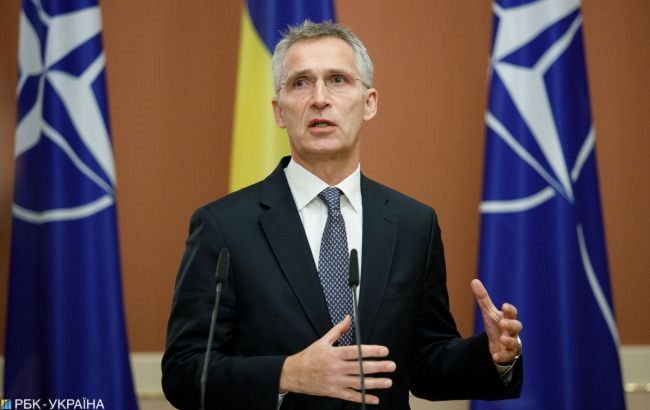 Photo: Jens Stoltenberg, NATO Secretary General (Vitalii Nosach, RBC-Ukraine)
During a meeting of the NATO-Ukraine Council, the North Atlantic Alliance decided to increase surveillance and reconnaissance in the Black Sea region, the NATO press service reports.
According to the press service, NATO condemned Russia's decision to withdraw from the grain deal, as well as the terrorist country's strikes in southern Ukraine to stop Ukrainian agricultural exports, which are essential for hundreds of millions of people around the world.
"Allies noted that Russia's new warning area in the Black Sea, within Bulgaria's exclusive economic zone, has created new risks for miscalculation and escalation, as well as serious impediments to freedom of navigation", the press service adds.
According to Deputy Secretary General Mircea Gioia, Russia is showing disrespect for international law and people who depend on Ukrainian grain. The Kremlin also threatens civilian ships, terrorizes cities and destroys part of the world's cultural heritage.
"Russia bears full responsibility for its dangerous and escalatory actions in the Black Sea region. Russia must stop weaponising hunger and threatening the world's most vulnerable people with food instability. Russia's actions also pose substantial risks to the stability of the Black Sea region, which is of strategic importance to NATO", said Secretary General Jens Stoltenberg.
It is also noted that NATO is stepping up surveillance and reconnaissance in the Black Sea region "with maritime patrol aircraft and drones."
Russia's withdrawal from the grain deal
After Russia withdrew from the grain deal, this country has been attacking southern Ukraine almost every night. The terrorist state, in particular, has been fiercely shelling Odesa and the region as a whole. Meanwhile, the UN Security Council is scheduled to meet today to raise the issue of Russian strikes and the alleged "persecution" of the UOC-MP in Ukraine.