Missile strike on Chernihiv center - Police confirmed number of casualties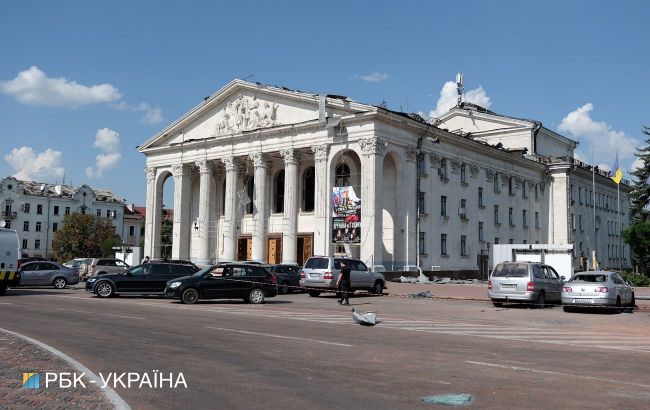 The aftermath of the Russian missile strike on Chernihiv (photo: Vitalii Nosach, RBC-Ukraine)
In Chernihiv, as a result of the Russian missile strike on the city center on August 19, the number of casualties, according to updated data, reached 144 people. Previously, 140 casualties were reported, according to the National Police of Ukraine.
The number of casualties remains the same - 7 people, including a six-year-old child.
"A total of 144 injured local residents sought medical assistance, including 15 children and 15 police officers," law enforcement officials reported.
Police conducted a door-to-door check of 66 damaged buildings in the center of Chernihiv (a total of about 500 apartments) and took statements from the victims.
Damage to 64 cars belonging to city residents was also recorded.
Volodymyr Nidzelskyi, the Chief of Police of Chernihiv region, stated that law enforcement continues to gather evidence of Russian war crimes.
"We must clearly document this war crime to add it to the repository of evidence of Russia's crimes against humanity," said Ukraine's Minister of Internal Affairs, Ihor Klymenko.
The National Police of Ukraine noted that as a result of the impact, the roof of the Drama Theater collapsed with subsequent fires. A fire also broke out on the roof of one of the buildings. The State Emergency Service quickly extinguished the fire. The shockwave damaged cars, windows, and doors in adjacent residential buildings, shops, and other civilian infrastructure.
The aftermath of the missile strike on the center of Chernihiv on August 19 (photo: npu.gov.ua)
According to Klymenko, most of the victims at the time of the missile strike were either in their vehicles, crossing the road, or returning from church. Everyone who was inside the drama theater managed to descend to the shelter in time.
Rocket strike on Chernihiv
On Saturday, August 19, during an air raid alert in Chernihiv, powerful explosions were heard around 11:30 AM. Later, authorities confirmed that the occupiers, most likely using ballistic weaponry, had struck the city center. Many people were in the area at the time of the attack.
The attack caused damage to the drama theater, the square, the courthouse, the Chernihiv Regional Administration building, shops, and other public facilities.
The head of the Ministry of Internal Affairs of Ukraine, upon arriving at the scene, reported that law enforcement had surrounded the courtyard in the center of Chernihiv where the Russian missile had landed.
For all the details of this brazen Russian attack, read the full article by RBC-Ukraine.