Shelling in Chernihiv: Ministry of Internal Affairs on situation in city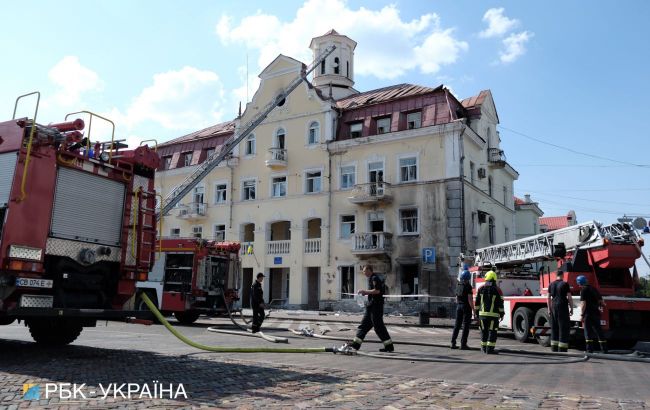 Russians shelled Chernihiv (Photo: Vitalii Nosach, RBC-Ukraine)
Law enforcement has surrounded the yard in the center of Chernihiv where the "arrival" of a Russian missile occurred. Currently, the city is documenting a military crime of the Russian Federation, according to the Telegram channel of Ukraine's Ministry of Internal Affairs, Ihor Klymenko.
Klymenko explains that currently additional patrols are operating in the city, and law enforcement personnel are conducting door-to-door checks of buildings.
According to the minister, the main victims of the incident were in vehicles or crossing the road, as well as returning from the church. Everyone who was in the drama theater descended to shelters in a timely manner.
He also reports that there is a large park behind the drama theater. Mothers had been walking with their children there since early morning. The central square was completely congested with vehicular traffic.
"Our rescuers arrived promptly after the missile's impact and extinguished the explosion's epicenter. Later, together with the police, they began providing first aid to citizens," the minister announced.
Rocket strike on Chernihiv
Today, on August 19, during an air raid alarm in Chernihiv, powerful explosions were heard. Later, authorities confirmed that the occupiers, most likely using ballistic missiles, targeted the city center. Many people were present there at the time of the attack.
As a result of the attack, the drama theater, the square, the courthouse, the Chernihiv Regional State Administration building, shops, and other public institutions were damaged.
Read all the details of the cynical Russian attack in the material by RBC-Ukraine.