MIA confirms assassination attempt on the State Tax Service Deputy Head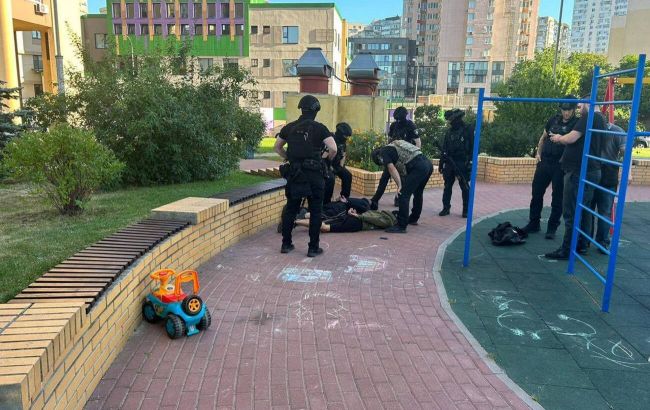 Photo: A failed attempt on the Deputy Head of the Tax Service took place in the center of Kyiv (t.me/getmantsevdanil)
The Minister of Internal Affairs of Ukraine, Ihor Klymenko, in a comment to RBC-Ukraine, has confirmed an attempt on the life of Deputy Head of the State Tax Service, Yevhen Sokur, which occurred yesterday, August 17, in the center of Kyiv.
"I can confirm that the National Police prevented an attack on the Deputy Head of the State Tax Service of Ukraine," a source reported.
It is stated that the operatives of the criminal search unit acted effectively. The suspects have been detained.
Details from the National Police
As it became known, the criminals were detained by operatives of the Department of Criminal Investigation of the National Police together with investigators and special forces of the Kyiv City Police Department.
Photo: Failed attempt on Deputy Head of the State Tax Service in the center of Kyiv (npu.gov.ua)
Law enforcement managed to prevent the attack precisely at the moment when the criminals with prepared bats were already heading toward the official, who was coming out of the entrance of his building.
"Law enforcement received information about the preparation for an attack with the intention of causing bodily harm in advance. Therefore, yesterday at 8 in the morning, the criminals were arrested directly during the attempt to commit the crime, thus effectively saving the official," according to the National Police press service.
In addition to the bats, the attackers had photos of the official and his car, indicating the premeditated nature of the crime.
The perpetrators turned out to be previously convicted 27 and 31-year-old individuals, they were detained. Currently, investigators are determining who ordered the attack.
A case has been initiated under Part 1 of Article 14; Part 2 of Article 121 of the Criminal Code of Ukraine - Preparation for a crime, infliction of serious bodily harm by a group of persons, or committed as a contracted offense.
The article provides for punishment in the form of imprisonment for up to 10 years.
What is known about the attack
This morning, the Head of the Verkhovna Rada Committee on Finance, Tax and Customs Policy, Danylo Hetmantsev, announced that a failed attempt on the Deputy Head of the State Tax Service, Yevhen Sokur, had taken place in the center of Kyiv.
As Hetmantsev recounted, the incident occurred yesterday, August 17, in the city center, but the police allegedly requested not to disclose any information until morning.
He referred to the instigators as "schemers" who had lost their "business" and added that the perpetrators had been detained and were giving testimony against the instigators.