Media reveals how Russia can ship weapons from North Korea for use in Ukraine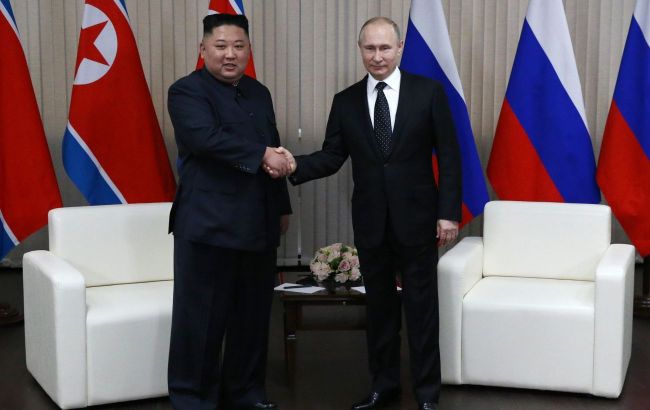 Russia ships weapons from North Korea (Getty Images)
Russian ships have been taking cargo from North Korea multiple times from mid-August to mid-October. They delivered the cargo to a military port in Russia's Far East, according to The Washington Post.
Satellite photos that were analyzed by experts from the London Royal United Services Institute (RUSI) show that over the past two months, Russian ships linked to military logistics networks collected cargo from North Korea. They transported this cargo to a military port in Russia.
The experts believe that this operation between Russia and North Korea is more regular, extensive, and ongoing. Satellite images indicate that, in mid-August, two Russian-flagged cargo vessels, Angara and Maria, started shuttling between the North Korean port of Rajin and a secure port complex in the Russian Far East's Dunai.
From mid-August to October 14, these vessels made at least five round trips.
According to Marine Traffic data, Russian ships turned off their automatic identification system signals, concealing their locations.
"Although it is impossible to tell what is being transported, the new images show ships linked to the Russian military logistics network, which strongly suggests these commercial vessels are carrying military equipment, RUSI analysts and U.S. officials say," the statement reads.
Around the same time, there was a rapid expansion of munition pits at an ammunition depot near Tikhoretsk, about 180 miles from the Ukrainian border, images show. These pits have been filled with munition boxes in recent weeks as rail cars arrived, offloading containers that were lined next to the pits. The color and size of those containers matched the shipments arriving at Dunai from Rajin, according to RUSI.
Putin-Kim Jong Un meeting
It took place during the annual Eastern Economic Forum. They were rumored to discuss the transfer of North Korean weapons to Russia, including artillery ammunition.
According to the Financial Times, the parties are ready to conclude an agreement, although the RBC-Ukraine source within the special services says that there is no confirmation of this information yet.
For more details on the weapons delivery from North Korea, you can read the RBC-Ukraine article titled "Why Russia needs ammo from North Korea, and will Kim Jong Un agree to transfer them: Expert insights."