Massive drone attack on Odesa region: 17 Shaheds downed, hits confirmed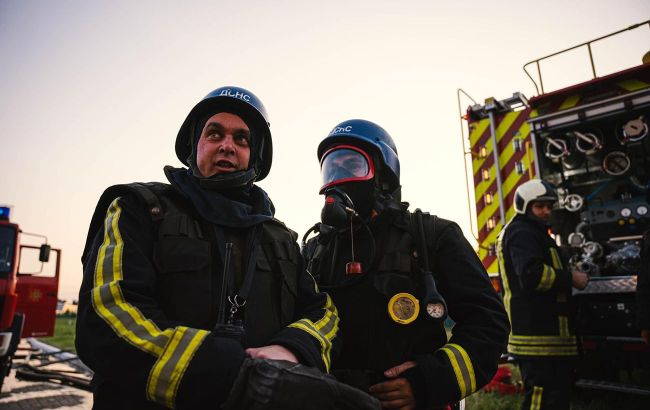 Photo: Consequences of the enemy's night aerial attack on the Odesa region (facebook.com/mns.gov.ua)
In the Odesa region, as a result of a prolonged massive enemy attack using strike drones of the Shahed type on the night of August 4th, there is damage to civilian infrastructure in two territorial communities, according to Southern Defense Forces and the head of the Odesa Regional Military Administration Oleh Kiper.
Duration of the attack
Russian strikes on the south of the Odesa region included several waves. Occupiers launched groups of drones from the Black Sea, and enemy targets also moved along the border with Romania.
In total, the attack lasted three and a half hours.
Air Defense
In the region, air defense forces and units were engaged against enemy targets.
According to military sources, air defense managed to shoot down 17 strike drones, but there were also hits.
Consequences
In two territorial communities in the south of the Odesa region, warehouse and industrial buildings, as well as equipment of agricultural and industrial enterprises, were damaged as a result of the enemy's massive attack.
"Also, due to debris falling from the drones that were shot down, several fires occurred on the territory of civilian objects. As of 7:00, the fires have been extinguished," - noted Oleh Kiper.
There were no casualties or injuries as a result of the enemy's overnight raid.
"All relevant services continue to work on-site. Law enforcement agencies are recording the crimes of the Russians," - added the regional leader.
In addition, the Southern Defense Forces displayed photos of the aftermath of the attack.
Russian attack on the Odesa region on the night of September 4
Tonight, Russian occupiers once again conducted an air attack on Ukrainian territory. In the command of the Air Forces, warnings were issued about the threat of the enemy's use of ballistic missiles for strikes, as well as strike drones.
In particular, such a danger was announced not only for the Odesa region but also for the Kherson region.
In the Odesa region, the enemy's attack affected Primorske, Izmail, and Kilia, i.e., the southern part of the region.