Marriage not a basis for obtaining Ukrainian citizenship: Parliament amends immigration law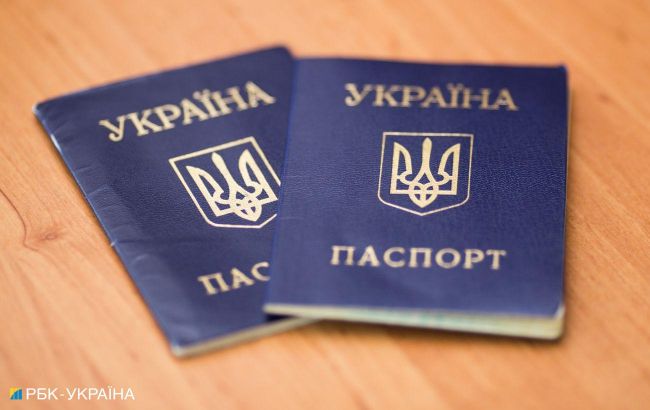 Marriage is not a basis for obtaining Ukrainian citizenship anymore (Photo: Vitalii Nosacj, RBC-Ukraine)
The Verkhovna Rada has adopted amendments to the immigration law in Ukraine. The document specifies the circumstances under which being married to a Ukrainian citizen is not grounds for granting immigration permission.
According to a post of the Member of Parliament Oleksiy Honcharenko on Telegram, the document (government bill No. 6516) states that being married to a Ukrainian citizen is not recognized as a basis for granting immigration permission under the following circumstances:
One of the spouses received financial compensation in exchange for agreeing to enter into marriage if it is not mandatory when getting married outside Ukraine according to the law of a foreign state.
The couple does not live together or share a joint household.
The couple did not meet or communicate before entering into marriage.
The couple does not speak a language understandable to each other.
Each spouse does not possess personal information about the other spouse (date and place of birth, place of residence, education, place of work, profession, religion, presence of close relatives, lifestyle, and preferences).
Rationale for the law
As stated in the explanatory note to the bill, according to the monitoring of migration processes conducted by the Security Service of Ukraine based on the analysis of the migration situation from 2018 to 2020, it has been found that the method of legalizing foreigners through marriage is becoming increasingly widespread.
In particular, the number of attempts to bring citizens of Afghanistan, Pakistan, Iran, and Iraq (countries of origin of illegal migrants) to Ukraine has increased several times under the pretext of family reunification due to marriage with Ukrainian citizens or immigrants who have obtained the right to permanent residence in Ukraine.
Provisions of the law
The law provides for the improvement of mechanisms for granting immigration permission, refusal to grant immigration permission, cancellation of immigration permission, and permanent residence permits. It also strengthens measures to combat illegal migration with regard to individuals who have been denied immigration permission or whose permission has been revoked.
According to the law, the Cabinet of Ministers may set quotas for immigration for the following categories of immigrants:
Scholars and cultural figures whose immigration corresponds to the interests of Ukraine.
Highly skilled specialists and workers whose presence is of significant importance to the Ukrainian economy, as well as their spouses and children under 18 years old if they simultaneously enter and stay in Ukraine.
The law also defines mass immigration to Ukraine as a situation where the relative weight of immigrants in relation to the entire population of Ukraine exceeds 10%.
In February, the Cabinet of Ministers set the immigration quotas for 2023 at 9,203 individuals, slightly higher than expected last year (8,488 individuals).