Macron and Scholz 'don't seem to get on' causing aid delay to Ukraine - Financial Times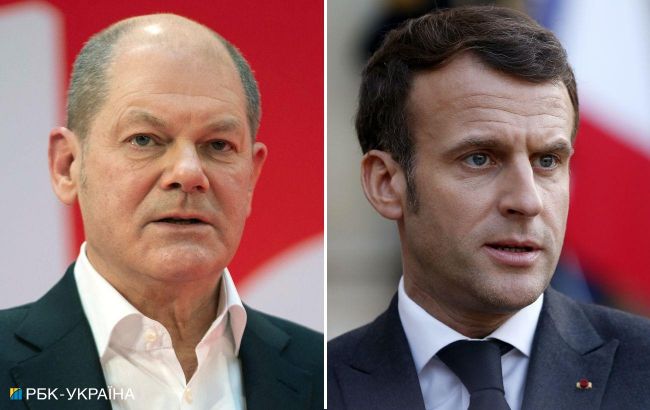 The President of France, Emmanuel Macron, and the Chancellor of Germany, Olaf Scholz (Collage by RBC-Ukraine)
The President of France, Emmanuel Macron, and the Chancellor of Germany, Olaf Scholz, allegedly "don't seem to get on." This is slowing down decision-making at the European Union level, particularly regarding assistance to Ukraine, according to the Financial Times.
The agency notes that the lack of consensus between France and Germany leads to delays in resolving many issues, from financing Ukraine to internal problems within the EU.
According to EU officials, the impasse in negotiations on several priority issues alarmed "Brussels and other EU capitals, officials from half a dozen states told the Financial Times, and exposed the difficulty of taking decisions without alignment between Paris and Berlin."
One participant in recent talks between the two leaders mentioned that the absence of personal chemistry between Scholz and Macron doesn't contribute to their collaboration. The participant observed that it appears they simply don't get along, and this, according to them, lies at the core of the issue.
The tension between the countries has persisted for over a year.
"The two of them just need to sit down in a room together and hash [things] out," said one of the senior EU officials. "Absent that, it's pointless for the rest of them trying to find consensus," said one EU official.
Support for Ukraine from allies
Recent claims have been of a supposed weakening of support for Ukraine in the fight against Russia.
In particular, the temporary funding of the government in the U.S. was approved without assistance to Ukraine. However, the Minister of Foreign Affairs of Ukraine, Dmytro Kuleba, stated that what happened in the United States is an incident, not a systemic issue.
Kuleba emphasized that all statements about the alleged weakening of support for Ukraine do not correspond to reality. This was also demonstrated during the meeting of foreign ministers of EU countries in Kyiv.