Kyiv and Ivano-Frankivsk region under Russian attack on August 11: details of the aftermath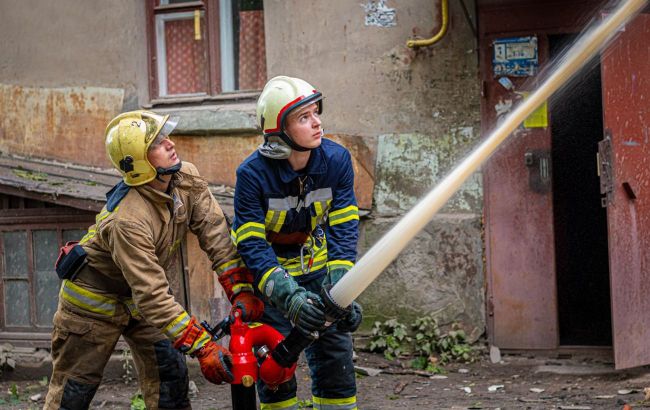 Russia once again targeted Ukraine using Kynzhal missiles (Photo: t-me-dsns_telegram)
In a fresh offensive on the morning of August 11, Russia once again targeted Ukraine using Kynzhal missiles. This time, the enemy's focus was on Kyiv and the Ivano-Frankivsk region.
Details of today's attack and its aftermath are outlined in the following report by RBC-Ukraine.
Aerial sirens blared across northern, eastern, and southern Ukraine after 9:30 a.m., signaling the start of an air alarm. The country's air forces promptly issued a missile threat advisory.
Around 10:00 a.m., alarms sounded in all regions as aerial warnings intensified. Military sources reported the departure of a Russian MiG-31K fighter jet from the Savaslеyka airbase, followed by missile launches of the Kynzhal type towards the Kyiv region.
Subsequently, explosions related to anti-aircraft defense operations were reported in the capital city and the Kyiv, Vinnytsia, and Khmelnytskyi regions.
Kyiv
During the air alarm, explosions echoed across various districts of the capital. Mayor Vitaliy Klitschko confirmed the activation of civil defense measures. Later reports revealed fragments of enemy missiles landed in the Dniprovskyi and Obolonskyi districts of Kyiv.
In the Obolonskyi district, missile debris fell onto the premises of a children's hospital and a residential complex. A fire ignited but was swiftly extinguished, fortunately causing no casualties. Additionally, debris impacted Bogatyrska Street, resulting in damage to a private residence's roof.
Spokesperson for the Kyiv City Military Administration, Mykhailo Shamanov, confirmed the enemy's use of Kynzhal missiles against the capital. He stated that all hostile projectiles had been successfully intercepted and neutralized.
According to Ruslan Kravchenko, the head of the Kyiv Regional Military Administration, Russia attempted a missile strike on the region, but the anti-missile defense systems successfully intercepted the threat. He noted that there were no confirmed impacts on critical or residential infrastructure. Fortunately, there were no casualties resulting from the attack.
Ivano-Frankivsk region
On this same day, Russian occupying forces also struck the Ivano-Frankivsk region with missile shelling. Head of the Regional Military Administration, Svitlana Onyshchuk, sadly reported the death of a child and several injuries due to the attack.
According to her, the critically injured child was rushed to a hospital, but despite medical efforts, their life could not be saved.
The Office of the Prosecutor General clarified that the occupiers targeted the infrastructure of the Ivano-Frankivsk region with ballistic missiles. One of these missiles struck a private residence in the Kolomyya district, where a family with three children lived. Tragically, an 8-year-old boy lost his life.
Law enforcement agencies have initiated a criminal case for violations of laws and customs of war under Article 438, Part 1 of the Ukrainian Criminal Code.
Photo: Russian occupying forces also struck the Ivano-Frankivsk region with missile shelling (t.me/pgo_gov_ua)