Kremlin extends deadline for reconstruction of Crimean Bridge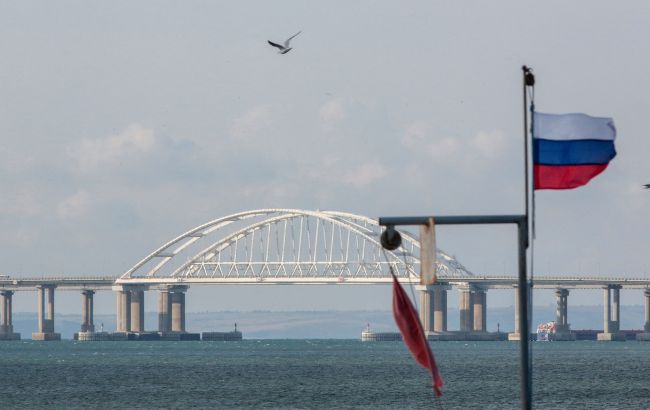 Russia has extended the deadline for the restoration of the Crimean Bridge (Photo: Getty Images)
The Russian government has extended the deadlines for restoring the Crimean Bridge following attacks in October and July until December 31, 2023, according to the directive from the Russian government.
After the explosion on the Crimean Bridge in October, the Russians planned to restore it by July 1.
Furthermore, after the attack on July 17, the occupiers announced their intention to resume two-way traffic on the Crimean Bridge in November fully.
Now they have extended the restoration deadline to December 31.
According to the Russian Cabinet's directive, "Nizhnoangarsktransbud" has been appointed as the sole executor of the Crimean Bridge restoration works. The company can engage co-executors, provided that it performs 50% of the work independently.
Damage to the Crimean Bridge
Previously, on July 17, explosions were reported on the Crimean Bridge. Russian media reported that one span in the direction of Taman was destroyed, and another in the direction of Kerch was damaged. The attack disrupted automobile traffic on the bridge, and total traffic has not been restored yet.
Surface drones attacked the bridge. Overall, the attack was a special operation carried out by the Security Service of Ukraine and the Naval Forces of the Armed Forces of Ukraine.
Ukrainian President Volodymyr Zelenskyy stated that the Crimean Bridge is a target for Ukrainian defenders and must be neutralized as the occupiers use it for warfare.
Explosion on the Crimean Bridge in October
Additionally, in October, two semi-sections of its automobile part collapsed due to an explosion on the Crimean Bridge, and the railway track was damaged.
At that time, Russian dictator Vladimir Putin labeled it a "terrorist act," with the Ukrainian special services being the "perpetrators." However, the Ukrainian side did not directly confirm involvement in the bridge's explosion but repeatedly stated that the Crimean Bridge was a legitimate target for their military.
This bridge is essential to Russia since the occupiers built it during the peninsula's annexation and are logistically crucial for Russia, especially regarding military support.