Head of Japan Ministry of Foreign Affairs to visit Kyiv, meet with Dmytro Kuleba today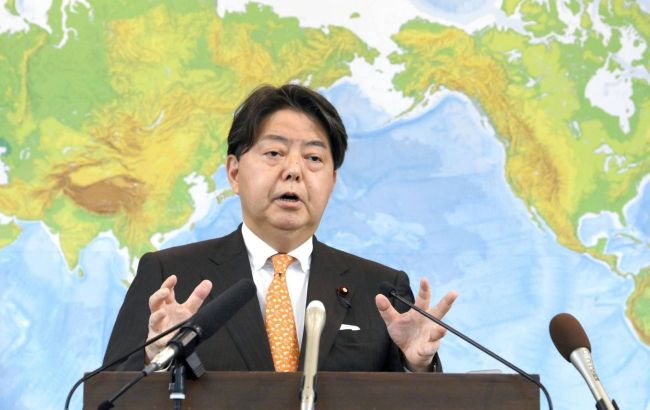 The Head of the Ministry of Foreign Affairs of Japan, Yoshimasa Hayashi (photo: japantimes.com)
Japanese Foreign Minister Toshimitsu Motegi is heading to Ukraine for a visit. The official will hold a meeting with his Ukrainian counterpart, Dmytro Kuleba, in Kyiv, according to the Ministry of Foreign Affairs of Japan.
The meeting between the two ministers in the Ukrainian capital will take place on Saturday, September 9.
As noted by the Japanese Ministry of Foreign Affairs, Hayashi will reaffirm Japan's strong support for Ukraine during his discussions with Kuleba.
The parties will also discuss Kyiv's participation in the work of the international community to "put an end to Russian aggression in Ukraine as quickly as possible."
During this visit, Hayashi is accompanied by leaders of Japanese companies, including Hiroshi Mikitani, the founder and CEO of Rakuten Group (4755.T).
"We hope that these companies will have the opportunity to directly listen to and communicate with the needs of the Ukrainian side for recovery and reconstruction, which will mark the beginning of deeper involvement of Japanese companies in future assistance for the reconstruction of Ukraine," the Ministry stated.
Support for Ukraine from Japan
It was previously reported that Japan wants to relax restrictions on the export of lethal weapons. It is stated that the country wants to support those who have suffered from military aggression, hinting at Ukraine.
At the end of August, Ukrainian President Volodymyr Zelenskyy had a phone conversation with Japanese Prime Minister Fumio Kishida. Prior to that, the Japanese Prime Minister had expressed his desire to help our country, as his administration fears that Russia's victory will push China to attack Taiwan and drag the country into a regional war.
The Japanese Prime Minister visited Ukraine on March 21. His trip was kept secret and took place immediately after his meeting with the Prime Minister of India in New Delhi.