Head of European Commission arrives in Ukraine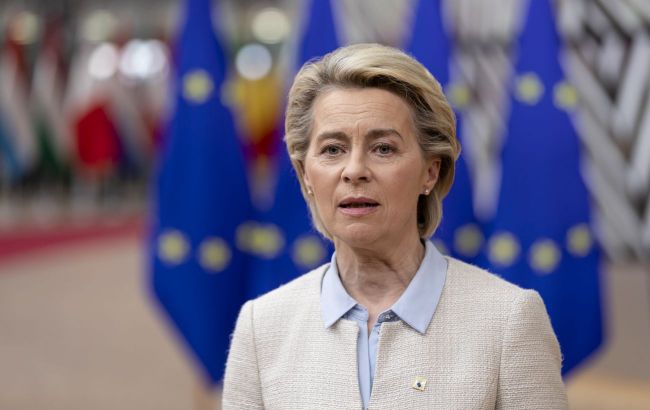 Ursula von der Leyen, President of the European Commission (Getty Images)
Head of the European Commission, Ursula von der Leyen, has arrived in Kyiv and is set to meet with President Volodymyr Zelenskyy, according to the Ukrainian Member of Parliament Yaroslav Zheleznyak.
The visit is taking place on the eve of the European Commission's recommendation to begin negotiations on Ukraine's accession to the European Union.
As noted by Zheleznyak, Ursula von der Leyen is expected to address the parliament.
Expectations from the visit
According to Ukraine's Minister for European and Euro-Atlantic Integration, Olha Stefanishyna, it is anticipated that Ursula von der Leyen will meet with President Volodymyr Zelenskyy to discuss the final assessments that will be presented by the European Commission in the ultimate report on the commencement of negotiations for EU accession.
Stefanishyna mentioned that Ukraine is hopeful for a positive decision from the European Commission, which would acknowledge progress on the seven criteria and provide recommendations from the EU regarding rule of law reforms.
Ukraine's EU accession
Following Russia's full-scale invasion, Ukraine applied for EU membership. Initially, Ukraine became a candidate for EU accession, and to move to the next stage, membership negotiations, it had to fulfill seven recommendations from the European Commission.
As of now, Ukraine has effectively met all the specified recommendations. It is expected that on November 8, the European Commission will recommend that the EU commence negotiations with Ukraine regarding membership.
However, the start of negotiations is just the first step toward EU membership. Ukraine will face lengthy negotiations in which its legislation must be aligned with European standards, followed by the ratification of membership by all EU member states.
The path from the beginning of negotiations to ratification can take years or even decades. Ukraine plans to become an EU member by 2024, but Brussels suggests that this could happen by 2030.