Grain export ban: Ukraine aims to avoid lawsuits, resolve issue through negotiations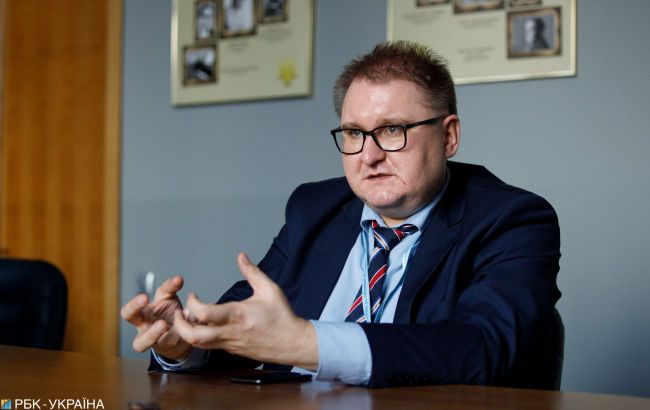 Deputy Minister of Economy Taras Kachka (Photo: Vitalii Nosach, RBC-Ukraine)
Ukraine would like to avoid legal proceedings and resolve the issue of agricultural product exports to three neighboring countries through negotiations, according to Deputy Minister of Economy and Trade Representative of Ukraine, Taras Kachka.
He mentions that after the European Commission lifted the ban on Ukrainian exports, there will likely be a mechanism for joint verification and agreement on the supply of four types of agricultural products to five EU countries.
According to Kachka, this is a complex trading mechanism, so Ukraine does not anticipate significant growth in export volumes. However, the country wants to demonstrate the real demand and actual buyers of Ukrainian products and gradually involve the governments of EU countries in assessing these supplies.
He is confident that in the future, it will become clear that an export ban is unnecessary, and trade normalization can gradually resume.
Kachka notes that Bulgaria and Romania have reacted positively to this proposal. Negotiations are currently ongoing with them to establish bilateral communication mechanisms. Meanwhile, Poland, Slovakia, and Hungary have not yet lifted their national import bans.
Kachka states that Ukraine is working with these countries and the EU to reach a compromise. He hopes that there will be good news this week regarding the countries agreeing on an interaction mechanism that will satisfy everyone and avoid formal bans in bilateral trade.
"Therefore, the appeal to the WTO is not the main tool for solving the problem but rather our reaction to the imposition of national bans. Ideally, we want to avoid a lengthy legal process within the World Trade Organization. Our priority is to reach an understanding with our neighbors through negotiations," he added.
Export ban on grain and World Trade Organization appeal
In the spring, Poland, Hungary, Slovakia, Bulgaria, and Romania imposed a ban on the import of Ukrainian grain and other agricultural products. The European Commission supported them, imposing a ban until September 15.
However, the European Commission decided to lift this ban from September 15. On the same day, Poland, Slovakia, and Hungary announced that they would maintain their own restrictions on imports, despite the decision of the European Commission.
In response, Ukraine filed complaints against Poland, Slovakia, and Hungary with the World Trade Organization regarding the grain import ban.