Global South could force Russia to change its stance - Ukrainian Foreign Minister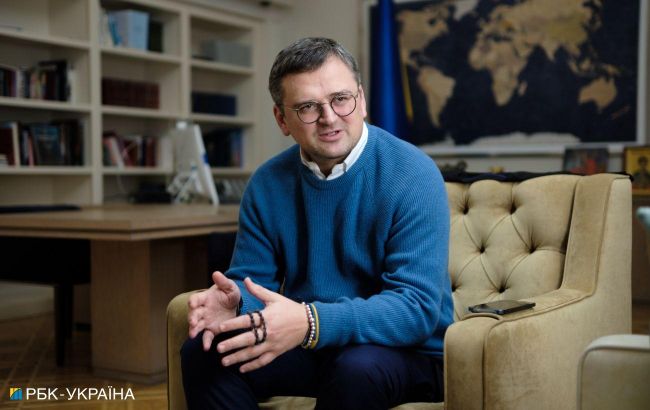 Minister of Foreign Affairs of Ukraine Dmytro Kuleba (Vitalii Nosach, RBC-Ukraine)
The сollective voice of the Global South has the potential to influence Russia and compel it to alter its stance on the war against Ukraine, according to Ukraine's Minister of Foreign Affairs, Dmytro Kuleba, in an interview with Arab News.
Kuleba said that the Global South countries maintain distinct relationships with Russia, with examples such as China, Turkey, and Saudi Arabia. He emphasized that while individual countries might lack the energy to independently prompt Russia to change its stance, their cumulative impact could alter the situation.
The minister stated that Ukraine's objective is to unite nations interested in changing the status quo and ending the war. He believs that collectively, these countries could implement Ukraine's proposed peace formula and restore the territorial integrity of the nation.
Kuleba dismissed concerns that the Global South countries might jeopardize their ties with Russia, as well as the notion that NATO isn't ready to offer Ukraine membership. He clarified that these are two separate tracks. Countries of the Global South have lost a lot as a result of the Russian aggression against our country. But this has nothing to do with our aspirations to become members of the EU or NATO.
He pointed out that countries of Asia, Africa, Middle East and South America want to see stable global food markets, prospects of trade with Ukraine, and tapping the full potential of education for their students in Ukraine. All of these functioned perfectly before Russia attacked. Therefore, Kuleba said he doesn't "have the impression that the countries of the world see the situation through the prism of Ukraine's regional interests, which are about close integration with the EU and NATO."
Background
Ukraine has recently bolstered its diplomatic cooperation with Global South countries. This includes regions like Africa, Asia, the Middle East, South America, China, and India. Notably, an important summit to discuss peace in Ukraine was held in Saudi Arabia recently, to which Russia was not invited. Ukrainian officials said that the meeting of diplomats and political advisors from 40 countries marked a breakthrough.