French company partners with Ukraine for drone production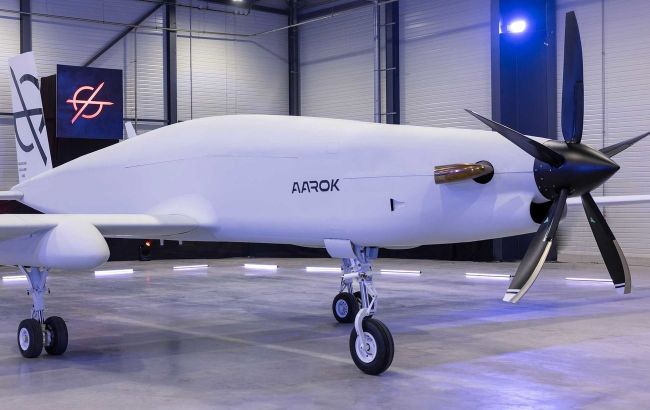 Photo: French drone Aarok (aarok.fr)
The French company Turgis & Gaillard has signed a contract with the Ukrainian enterprise "Antonov" for the joint production of a reduced and cheaper version of the Aarok MALE drone, reports LaTribune.
According to the magazine, the agreement was signed during the visit of the French Minister of Defense, Sébastien Lecornu, to Kyiv on September 28th.
Fanny Turgis, the president and founder of Turgis & Gaillard, mentioned that the drone will be operational in Ukraine by next year.
She clarified that after the agreement's signing, the Ukrainian and French sides need to coordinate all subsequent actions at the industrial and operational levels to begin producing the drone. In particular, it's necessary to determine a location for assembling the drone and decide on the French and Ukrainian equipment for this unmanned aerial vehicle.
Turgis also emphasized that the Aarok produced by "Antonov" would not be exported. The drone is intended solely for the Armed Forces of Ukraine.
French drone Aarok
The Aarok drone is a medium-altitude, long-endurance UAV with various sensors and weapons depending on the mission. Its maximum speed is 463 km/h. It can fly for up to 30 hours and requires no specialized infrastructure.
The drone was presented at the Paris Air Show in June 2023.
Ukraine signs contracts with French companies
On September 28th, the French Minister of Defense, Sébastien Lecornu, and a delegation of representatives from companies specializing in military equipment arrived in Kyiv for a visit.
Representatives from approximately twenty companies producing military equipment (armored vehicles, artillery, drones, cybersecurity, and demining) signed about twenty contracts, letters of intent, or memoranda of understanding with Ukrainian manufacturers.
The French Ministry of Defense indicated that the move showcases the commitment of French industrial know-how in support of Kyiv.