French arms companies sign around 20 contracts in Ukraine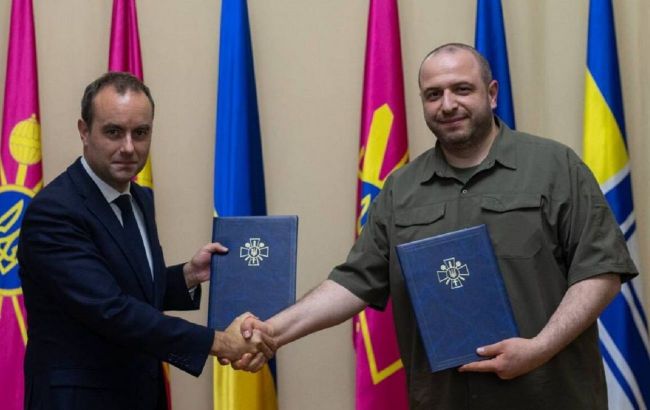 Heads of the French and Ukrainian Ministries of Defense Sébastien Hospital and Rustem Umerov (mil.gov.ua)
During a visit to Kyiv, French Minister of Defense Sébastien Lecornu, accompanied by a delegation of representatives from defense technology companies, signed around 20 contracts with Ukrainian industrialists, according to the French Ministry of Defense.
The agenda during the French minister's visit to the Ukrainian capital on September 28 included discussions on providing assistance from Paris "in real-time," taking into account the possibility of Russia's prolonged military aggression. Minister Lecornu emphasized the need for patience, which France intends to demonstrate in its support for Ukraine.
"We plan to transition from a sales-based approach relying on our stockpiles to an industrial partnership approach," he said.
The French Minister of Defense met with Ukrainian President Volodymyr Zelenskyy, Defense Minister Rustem Umerov, and Minister of Strategic Industries Oleksandr Kamyshyn.
French defense industry representatives and parliamentarians accompanied minister Lecornu on the trip.
Representatives from around twenty companies specializing in the production of military technology (including armored vehicles, artillery, drones, cybersecurity, and demining) signed contracts, letters of intent, or memorandums of understanding with Ukrainian industrialists.
The French Ministry of Defense said that this development demonstrates the mobilization of French industrial know-how in support of Kyiv.
The trip was part of the inaugural Defense Industry Forum organized by Ukraine this Friday.