Free evacuation: Which organizations help Ukrainians go abroad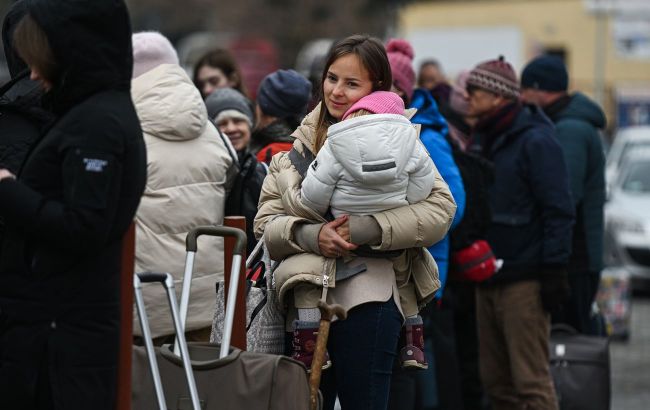 Ukrainian refugees in Poland (gettyimages.com)
The war in Ukraine continues, leading to a significant need for evacuations. Volunteers are providing free assistance for those looking to leave the country.
Several projects are offering such assistance to war refugees in Ukraine, according to ukrainianinpoland.pl.
Assistance with evacuations from conflict zones and occupied territories
Rubikus.helpUA, a team of volunteers, aids Ukrainians in leaving conflict zones and provides temporary shelter in Europe. They also assist residents of occupied territories in reaching Europe, often through Russia, to either stay there or return to Ukraine.
Since the start of the conflict, Rubikus has helped more than 20,000 people find safe havens in Europe. For those deciding on which country to seek temporary refuge, volunteers have created a practical information website, varenik.help.
The Rubikus project operates with the support of a German non-profit organization, funded by charitable contributions.
Residents of Ukraine can receive volunteer assistance at every stage of their departure, from choosing a destination country to planning their travel route and booking accommodations. The organization covers stays in transit hostels in Riga, Narva, and Warsaw. Volunteers also purchase tickets to other countries, such as Germany, Czechia, Finland, and Norway. If necessary, they can provide suitcases or pay for transportation to the airport.
Photo: Volunteers helping refugees in Poland (gettyimages.com)
To request help with free evacuation, individuals can visit the organization's website, providing details about their departure circumstances and the information of those planning to evacuate. Men should specify the legal grounds for their departure. Those leaving occupied territories through Russia can contact the organization both before the journey and after crossing into Europe.
Free evacuation to Moldova with Medibus
Since the beginning of the conflict, the Medibus project has helped more than 15,000 individuals evacuate from dangerous locations. Among these evacuees are the elderly, the sick, children, and the wounded.
The organization evacuates people by bus from cities like Odesa, Kharkiv, Kyiv, Lviv, and others to Moldova. Upon arrival in Chisinau, they provide information about accommodation options in Moldova or continuing their journey to other countries.
Medibus specializes in medical evacuations using special buses designed for bedridden patients and individuals with limited mobility. These buses have seven bed spaces, necessary medical equipment, and medical staff.
To avail of Medibus evacuation, individuals need to complete an online application, specifying their departure city and personal information.
Photo: Refugees with limited mobility at the border (gettyimages.com)
Big volunteer project for evacuation and support
The Helping To Leave project has over 300 volunteers from different European countries, as well as Israel, Georgia, the United States, and Canada. They work around the clock, processing hundreds of requests through Telegram and a call center (+38 (093) 17-76-458), coordinating evacuations, and providing consultations on various issues, including legal, humanitarian, and medical matters.
The project has supported over 53,000 people during evacuations from conflict zones. Assistance is not limited to people from Ukraine and occupied territories but also extends to those who find themselves in Russia. Volunteer participation also includes helping refugees adapt to their new surroundings.
If a request received via the Telegram bot is complex and requires financial assistance, a specialized group within the project takes care of it. Volunteers stay in contact with refugees for weeks, ensuring their safety and providing necessary aid.
The number of Ukrainian refugees in several European countries, including Czechia, Germany, and the Netherlands, is on the rise. Meanwhile, in Ireland, solutions have been found to address housing issues for incoming Ukrainians. People will no longer be placed in tents outdoors, as an exhibition center is being prepared to accommodate refugees.