Number of Ukrainian refugees is growing in several European countries: Eurostat data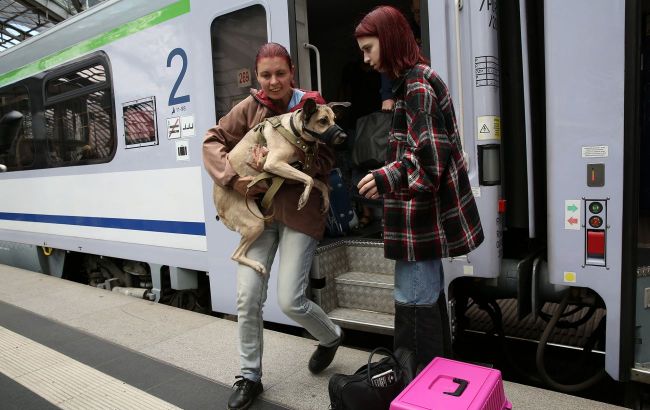 Ukrainian refugees in Germany (gettyimages.com)
The number of Ukrainians with temporary protection in Europe is on the rise. According to the latest data from Eurostat, there are nearly 4.2 million refugees from the war in Ukraine in the European Union.
schengenvisainfo.com reports on which countries are experiencing the highest influx of Ukrainians and where refugees are leaving in large numbers.
Temporary protection in Europe is being utilized by 4,155,000 individuals from Ukraine, with 98% of them holding Ukrainian citizenship. The three EU countries receiving the highest number of refugees are Germany (1,175,695 individuals, constituting 28% of the total number of Ukrainian refugees in Europe), Poland (960,550, 23%), and the Czech Republic (365,085, 9%).
Over the course of a month, the number of people applying for temporary protection status increased by 41,275 individuals, according to Eurostat data as of the end of August 2023 (a 1% increase in refugees in the EU compared to July).
The countries experiencing the largest growth in applicants seeking refuge are as follows:
Germany (+21,830; +1.9%)
Czechia (+7,545; +2.1%)
Netherlands (+2,635; +1.7%)
Meanwhile, some countries have seen a decrease in the number of Ukrainians with temporary protection:
Poland (-10,530; -1.1%)
Italy (-550; -0.3%)
France (-420; -0.6%)
Overall, the countries with the highest number of Ukrainian refugees in proportion to their local populations (per 1,000 residents) are:
Czech Republic (33.7)
Estonia (26.2)
Poland (26.1)
Bulgaria (25.6)
Lithuania (25.3)
At the EU level, this indicator averages 9.3 per thousand individuals.
As a reminder, we previously reported on the European countries that are granting temporary protection to Ukrainians again, with a notable increase in Ukrainian refugees.
Meanwhile, Switzerland has developed a plan to encourage Ukrainians to return home voluntarily. Those who choose to return to Ukraine after the war will receive up to 4,000 euros.