First Lady of Ukraine reveals whether Zelenskyy to run for second term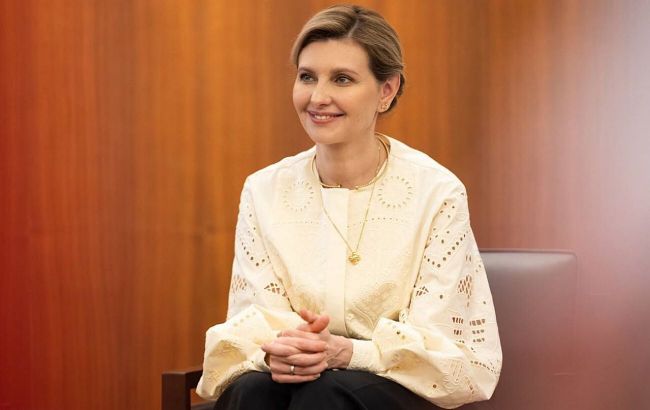 Zelenska responded to whether Volodymyr will run for a second term (Photo: facebook.com/olenazelenska.official)
The First Lady of Ukraine responded to the intriguing question independently. Will Zelenskyy run for a second term as president? However, the answer turned out to be ambiguous.
Sources used during the preparation of the material: Olena Zelenska's interview on CBS News.
The First Lady answered whether Zelenskyy will run for a second term
Since Zelenska has been and remains the closest person to Volodymyr, she definitely knows all his plans and intentions. That's why the president's wife told CBS whether a second term in the presidency is in his plans.
At first, the First Lady approached the question cautiously and recalled her reaction to her husband's first term.
"Well, you know, this was a very difficult question for me. You know, even when he ran for the first time, I didn't fully endorse it. But if he runs again, if he runs for the second time, if he decided it is necessary, well, we have some experience, we've been there. It is not as scary as- as it was in the first time," Olena said.
Screenshot of the CBS broadcast
Based on Zelenska's words during the broadcast, she believes that one factor in the president's decision could be the current situation in the country and the ability to organize free and fair elections.
This could indeed be challenging, as the current situation in the country could lead to various developments. However, Olena also noted a few important points.
"It will depend on the situation in our country and the situation and the possibility of organizing free and fair elections. It will also depend whether our society would need him as a president, if he will feel that Ukrainian society will no longer wish him to be the president, he will probably not run," said the wife of Volodymyr Zelenskyy.
Olena Zelenska responds to whether her husband will run for a second term (photo: instagram.com/olenazelenska_official).
However, it seems premature to say anything about elections, as Volodymyr's term has not yet ended, and the appropriateness of holding elections during a war remains a significant question. This is a matter of concern for both the country's leader and political experts, as the situation is changing daily.
Previously, we reported that Zelenskyy confirmed the presence of Abrams tanks in Ukraine.