Finland is preparing a new defense aid package for Ukraine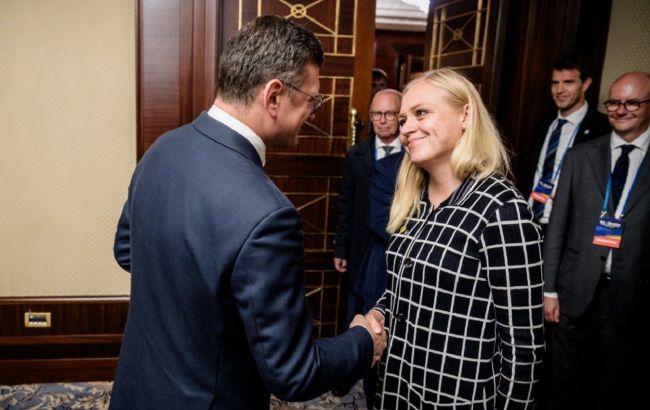 Finnish Minister of Foreign Affairs, Elina Valtonen and Ukrainian Minister of Foreign Affairs Dmytro Kuleba in Kyiv (Photo: twitter.com/elinavaltonen)
The Finnish government is preparing another defense assistance package for Ukraine, marking the 19th package, according to the country's Minister of Foreign Affairs, Elina Valtonen.
The minister stated that Helsinki's overall assistance to Ukraine has already reached two billion euros.
"Our next defense materiel package is under preparation," said the head of the Finnish Ministry of Foreign Affairs.
She also referred to Ukraine as "our largest development partner."
Valtonen added that Finland's and the European Union's support for Ukraine will continue "as long as necessary."
The new defense package from Finland is expected to include aid amounting to 94 million euros.
"Freedom will prevail. Many thanks for hosting us in Kyiv, Dmytro Kuleba," she wrote.
On October 2, the Finnish Minister of Foreign Affairs, Elina Valtonen, participated in an informal meeting of EU foreign ministers in Kyiv.
The minister emphasized that support for Ukraine is not considered charity but a collective defense of the European way of life and values. She stated that they must continue supporting Ukraine for as long as necessary.
Finland's aid to Ukraine
Finland has been providing Ukraine with defense and humanitarian assistance following the onset of full-scale military aggression by Russia.
The Finnish government had given instructions to develop a plan for the country's participation in the reconstruction of Ukraine.
In August, Finnish President Sauli Vainamo Niinisto approved a decision to provide Ukraine's 18th package of military assistance based on the government's proposal.
Additionally, Finland is exploring the possibility of manufacturing Patria armored personnel carriers in Ukraine.