Family trapped under rubble in Donetsk region due to Russian shelling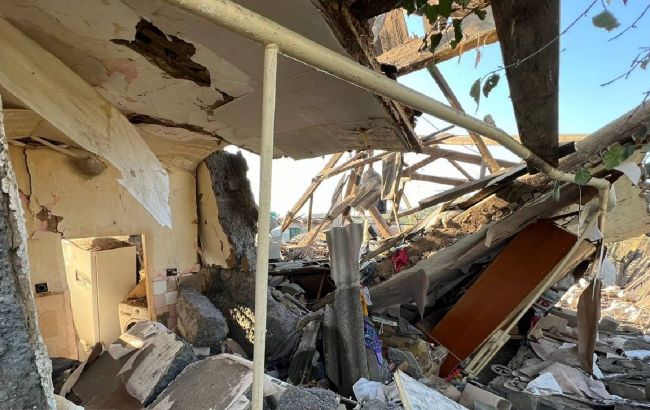 The occupiers shelled Kondrativka in the Donetsk region (Photo: t.me/Donetsk_obl_prokuratura)
Russian invaders launched a missile strike on the village of Kondrativka in the Donetsk region. Due to the terrorists' attack, a family became trapped under the rubble of their house, according to the Prosecutor's Office of the Donetsk region and the Donetsk region police.
On the night of October 1st, the Russian army struck the village of Kondrativka, presumably with S-300 surface-to-air missiles. As a result of the attack, a residential house was destroyed.
A whole family was trapped under the rubble: a 40-year-old man, his 36-year-old wife, their 16-year-old son, and a 57-year-old grandmother. A neighbor and rescuer managed to extract the family from the debris.
In total, 15 private houses and farm buildings were damaged due to the shelling.
Photo: Occupiers shelled Kondrativka in the Donetsk region (t.me/Donetsk_obl_prokuratura)
What else is known about the shelling in the Donetsk region
During the past day, 19 settlements in the Donetsk region came under enemy fire. The occupiers used aviation, S-300 anti-aircraft missile systems, rocket artillery systems Grad and Uragan, as well as artillery against the civilian population.
Russians dropped a KAB-500 aerial bomb on Kostiantynivka. A 13-year-old child was injured. Near Kramatorsk, Russians fired two S-300 missiles, damaging buildings and vehicles.
Photo: police showed the aftermath of shelling in the Donetsk region (facebook.com/don.gunp)
Additionally, during this night, the occupiers attacked Ukraine with kamikaze drones and missiles. More details about the consequences of the overnight shelling can be found in RBC-Ukraine's material.