Explosions heard in Sevastopol, Crimea: Russians block Crimean Bridge traffic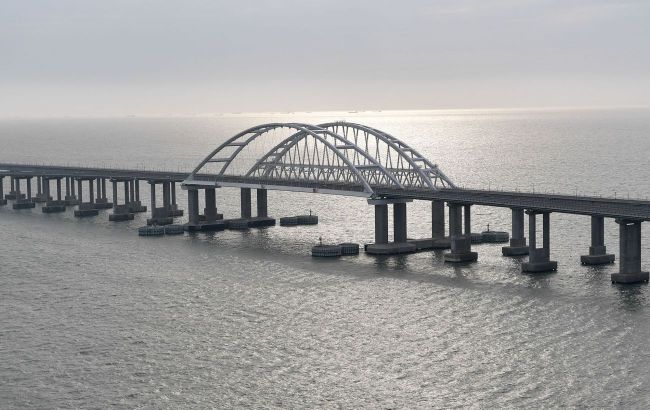 The Crimean Bridge (Photo: Getty Images)
On the evening of Tuesday, August 22, residents of the city of Sevastopol, located in the temporarily occupied Crimea, heard sounds of explosions, according to Russian propaganda Telegram channels.
As reported by locals, sounds resembling explosions and gunfire were heard in the city.
"Fiolent (cape -Ed.), motorized troops are very intense," locals write.
However, there is currently no official information about what is happening in Sevastopol and its surroundings.
As claimed by the Russians themselves, the sounds of explosions are supposedly related to the training of Russian armed forces units in Kozachia ('Cossack') bay. At the same time, they are warning the locals about the threat of drone strikes.
It is also reported that Russians have once again blocked traffic on the Crimean Bridge.
Photo: screenshot
Attacks on the Crimean Bridge
The Crimean Bridge, which was illegally built by Russian occupiers, has been attacked twice before.
In October 2022, powerful explosions occurred on it, causing significant damage. The head of the SSU, Vasyl Maliuk, recently confirmed that it was a special operation carried out by his agency.
A new attack on the Crimean Bridge took place in July of this year. Two spans were destroyed during that incident. The Russians plan to repair the bridge no earlier than November.
Maliuk also confirmed the involvement of the SSU in this attack. According to him, it was organized using surface drones called Sea Baby.