CNN shows video of attacks on Crimean bridge in July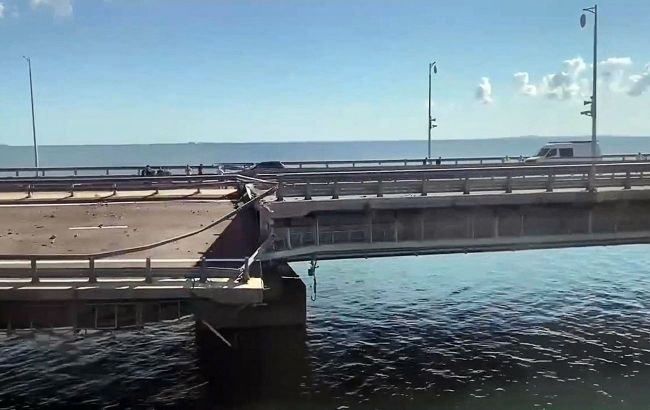 The SSU shares details of the attack on the Crimean bridge (Getty Images)
Ukraine's Security Service (SSU) released to CNN an exclusive footage showing the moment in July when they used an experimental sea drone to attack Russia's bridge to annexed Crimea on July 17.
The Ukrainian intelligence agency also disclosed new details regarding last month's attack and warned that more such assaults will follow.
SSU Director Vasyl Maliuk said that the employed drone, named "Sea Baby," resulted from months of development initiated shortly after Russia's full-scale invasion of Ukraine.
Ukrainian maritime drone (photo provided by SSU / cnn.com)
"Sea surface drones are a unique invention of the Security Service of Ukraine. None of the private companies are involved. Using these drones we have recently conducted a successful hit of the Crimean bridge, the big assault ship Olengorskiy Gornyak and SIG tanker," he said.
The SSU provided CNN video of the July attack, which showed the pilot's screen in the moments before the Sea Baby delivered up to 850 kilograms of explosives to one of the bridge's concrete support pillars.
CNN added that sources within the agency also provided them with two surveillance camera videos capturing the moment of impact of one drone on the road section of the bridge, and then another drone blast hitting the railway section about five minutes later, from the opposing direction.
Maliuk also claimed responsibility for the first attack on the unauthorized Crimean Bridge on October 8 but declined to divulge further details.
Attacks on the Crimean Bridge
Russians illegally built the Crimean bridge after occupying the peninsula in 2014. The bridge connects the occupied Ukrainian peninsula with the territory of the Russian Federation. Now the occupiers are using it to transfer military equipment and manpower to the southern front.
The initial explosions on the bridge occurred in October 2022 during an SSU special operation, which was later confirmed by SSU Chief Vasyl Maliuk.
Then, on July 17 of this year, two spans of the Crimean Bridge were destroyed due to an attack by surface drones. The destruction was significant enough that its reconstruction will likely continue until the end of the year.
On August 12, the Russians claimed two missile attacks on the Crimean Bridge. However, as usual, the Russian Ministry of Defense reported a successful repulsion of the attack, reporting no casualties or damages.
According to the Russians, this time the Crimean Bridge was attacked using S-200 anti-aircraft missiles. For more on the explosions near the Crimean Bridge, read the coverage by RBC-Ukraine.