EU calls for 'unhindered humanitarian access' to Gaza Strip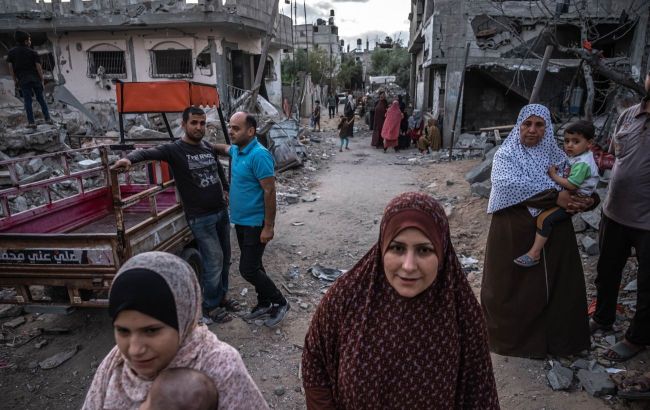 Illustrative photo (Getty Images)
A European Union spokesperson Balazs Ujvari welcomed the announcement that Egypt had agreed to allow the passage of trucks with humanitarian aid to the Gaza Strip. However, he stated that any restrictions on the quantity of goods imported into the enclave do not comply with the norms of international humanitarian law, reports CNN.
The spokesperson claimed that the EU "welcomes the announcement by Egypt, according to which critically needed humanitarian aid will be able to start being delivered into the Gaza Strip," pointing out that "international humanitarian law obliges all parties to ensure safe and unhindered humanitarian access to people in need. Restrictions on a quantity, destination, and categories of items are not in line with this obligation," Ujvari said.
A representative of the EU has confirmed that the second humanitarian flight from the EU will land in Egypt on Thursday in the afternoon, following the arrival of the first aid shipment on Monday.
"If you put together the cargo of the flight from Monday and the one going today, we are talking about of 54 tonnes of essential humanitarian supplies. This includes hygiene items, sanitary material, but also food, water, and shelter," Ujvari stated.
According to him, the EU welcomed "the announcement made by Israel that it will not thwart the deliveries of food, water or medicine coming from Egypt."
Hamas attack on Israel
On October 7, terrorists affiliated with Hamas launched a brazen attack on Israel from the Gaza Strip. The militants seized hostages, claimed the lives of hundreds of civilians, and took control of certain military installations.
In response, Israel declared a state of war and initiated a counter-terrorism Operation Iron Swords.
Subsequently, Israel pledged to eradicate the Hamas terrorist group in retaliation for the deadly assault on the Jewish civilian population, drawing parallels to the horrors of the Holocaust.
Israel has declared that there will be no humanitarian breakthrough in the blockade of the Gaza Strip until all hostages seized by Hamas are released.
Recently, U.S. Secretary of State Antony Blinken stated that Washington and Israel had jointly agreed to develop a plan for delivering humanitarian aid from foreign states and international organizations to the Gaza Strip.