EU Commission calls on Russia to restore 'grain deal'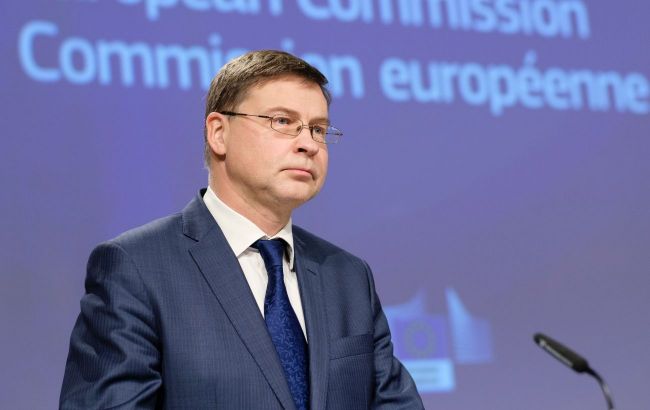 Executive Vice-President of the European Commission, Valdis Dombrovskis (Photo: Getty Images)
The European Commission has called on Russia to restore the "grain deal". Russian restrictions on the supply of Ukrainian grain via the Black Sea are causing problems not only for Kyiv but also for many developing countries, according to the Executive Vice President of the European Commission, Valdis Dombrovskis, cited by Reuters.
He emphasizes that Russia is using "grain as a weapon."
"We support all efforts by United Nations, by Turkey on Black Sea grain initiative," he told reporters, adding the bloc was providing alternative trading routes, also called solidarity lanes, to Ukraine for grain and other exports.
According to Dombrovskis, through alternative routes via Poland and Romania, approximately 45 million tons of grain, oilseed products, and related goods have been exported, which is a crucial lifeline for Ukraine.
"The European Union is supporting Ukraine through defense, financial and other aid, aiming to throw Russian troops beyond international borders of Ukraine," he stated.
Dombrovskis adds that the EU is concerned that some countries, including China and India, have not joined the Western sanctions against Russia.
During bilateral negotiations between representatives of India and the EU, EU officials raised the issue of exporting processed Indian oil from Russian oil, which somewhat undermines the purpose of sanctions, he adds.
However, according to him, this is unlikely to impact the ongoing negotiations for the proposed free trade agreement between the EU and India.
Russia's exit from the "grain deal"
In July, Russia announced its withdrawal from the "grain deal," citing alleged non-compliance with its conditions. Meanwhile, the Russian army began shelling Ukrainian ports and grain infrastructure in the south of Ukraine.
At the same time, Türkiye is trying to persuade Moscow to return to the agreement, which was brokered by Ankara and the UN.
Recently, Ukraine announced the opening of temporary corridors for commercial vessels in the Black Sea. However, the Ukrainian Navy stressed that the threat from Russia remains. The routes are primarily intended for the exit of civilian ships that have been in the Ukrainian ports of Chornomorsk, Odesa, and Pivdennyi since the beginning of the war.