EU Ambassador identifies pivotal moment for Ukraine's membership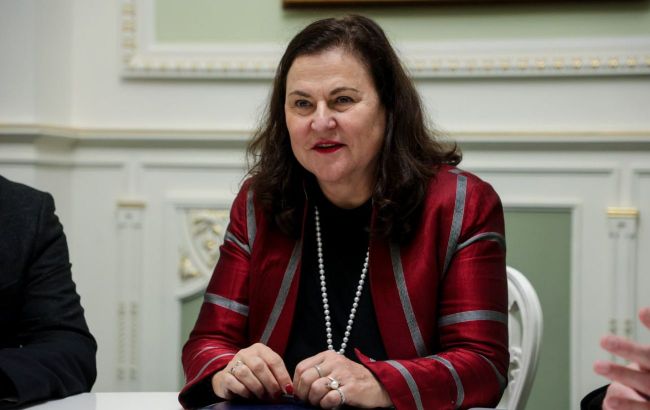 Photo: Ambassador of the European Union to Ukraine Katarína Mathernová (facebook.com/dshmyhal)
The European Union did not accept other states within ten years due to the lack of reforms and political will. However, Ukraine's efforts towards European integration have created a "driving moment" for expansion, said the Ambassador of the European Union to Ukraine Katarína Mathernová.
According to the diplomat, the process of EU expansion is "not physics, there are no mathematical formulas that we should be guided by."
"For expansion, we need two main elements. The first is political will on both sides, as well as technical potential on both sides," the EU ambassador to Ukraine explains.
At the same time, Mathernová added, when one of these components is missing, the process can "take a long time."
"And now we are ending the first ten-year period in the history of the EU when the European Union did not expand from 2013 to 2023. This was the result of the lack of reforms. But it was also the result of the lack of political will," she said.
The ambassador specified that the EU "did not want to expand" in that situation.
However, the continuation of Ukraine's European integration path, in particular, during the repulse of the full-scale military aggression of the Russian Federation, influenced the change of position in Brussels.
"And with the beginning of this terrible war and the price that Ukrainians are paying, perhaps this created a driving force for expansion. And I believe that to a certain extent, it speeds up the process," Mathernová said.
The ambassador assured that the progress of political will on the part of the EU will depend on how long Ukraine will be able to carry out technical work on reforms within the framework of European integration.
"You are breaking all records. It has never happened in history that documents were prepared in 2 weeks. So, no one determines the time frame. Everything will depend on you. You show a very good example for a warring country, making all management decisions and developing legislation," the representative of the European Union emphasized.
Ukraine's negotiations on joining the EU
In the report announced on November 8, the European Commission recommended starting negotiations on Ukraine's accession to the EU. The decision will be taken by the leaders of the EU countries at the summit on December 14. All leaders must agree to open negotiations.
Earlier, Deputy Prime Minister Olha Stefanishyna told RBC-Ukraine that there is a clear understanding that the state can be fully ready for EU accession within two years from the start of the negotiation process.
Also, on November 8, the President of Ukraine Zelenskyy signed a decree in which he obliged the authorities of Ukraine to prepare for negotiations on joining the EU.
We also reported when negotiations for Ukraine's accession to the European Union will begin.
Read more about Ukraine's accession negotiations to the EU in the RBC-Ukraine material.