Duda could not meet with Zelenskyy due to 'tight schedule'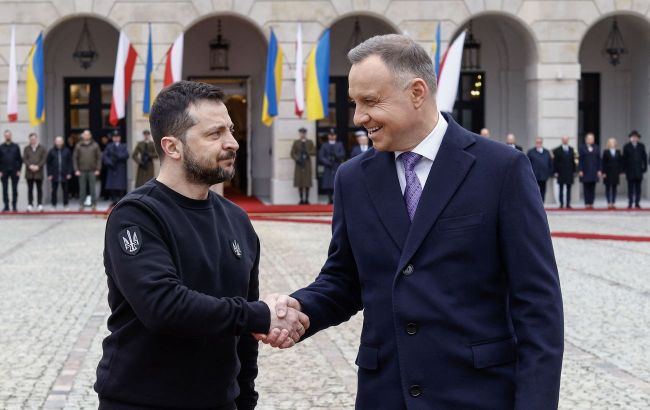 Andrzej Duda and Volodymyr Zelenskyy (Getty Images)
Polish President Andrzej Duda's scheduled meeting with his Ukrainian counterpart, Volodymyr Zelenskyy, during his visit to New York did not take place, according to Wprost.
Duda explained that the meeting with Zelenskyy had to be postponed due to a change in the timing of his speech at the United Nations General Assembly.
"The agenda of the session changed significantly. The meeting was supposed to take place at 11:30, precisely during my speech. Everyone here has a very tight schedule," He said.
He noted that at present, the meeting is "off the agenda," but he does not rule out the possibility of it taking place at a later time.
The Duda-Zelenskyy meeting
Recently, the head of the Polish President's Chancellery, Pawel Srot, had announced a meeting between the two heads of state. During their conversation, they were expected to discuss the situation regarding the embargo on Ukrainian grain in Poland.
Duda later confirmed his plans to meet with Zelenskyy, but there were no official announcements from the Ukrainian side regarding the conversation.
Ban on Ukrainian grain imports
In the spring of this year, Poland imposed a ban on the import of Ukrainian grain and other agricultural products, with several other Eastern European countries following suit. At that time, the European Commission allowed Poland, Hungary, Slovakia, Bulgaria, and Romania to prohibit the import of wheat, corn, rapeseed, and sunflower seeds from Ukraine.
As of September 15, the ban was lifted, but Poland, Slovakia, and Hungary continued to enforce the ban despite the European Commission's decision.
On September 19, Ukraine filed lawsuits against Poland, Slovakia, and Hungary with the World Trade Organization over the grain import ban.
Additionally, during his time in New York, Duda commented on the situation with the grain embargo, likening Ukraine to a "drowning person grasping at a straw."