Drone attacks: Russia explains explosions in Novorossiysk and Crimea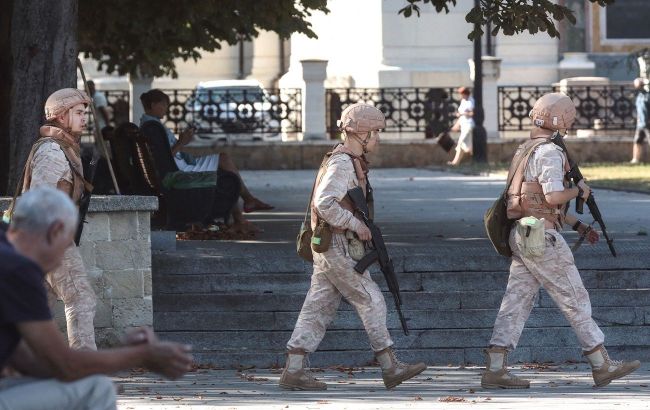 Illustrative photo: Russian military in occupied Crimea (Getty Images)
Explosions in the Russian city of Novorossiysk, as well as in the occupied Ukrainian Crimea on the night of August 4, are being attributed by the Russian authorities to the interception of drone attacks, according to the Russian Ministry of Defense and Governor of Krasnodar Krai, Veniamin Kondratyev.
Both of these incidents have been blamed on the Ukrainian side, with claims that all the drones involved were allegedly neutralized in both Novorossiysk and temporarily Russian-controlled Crimea.
Explosions in Crimea on the night of August 4

The Russian Ministry of Defense has once again claimed that it "thwarted" an attempted Ukrainian drone attack. The department stated that those were aircraft-type UAVs, targeting objects on the peninsula.
The statement also asserted that 13 drones were destroyed through air defense measures and radio-electronic warfare systems.
According to the ministry, there were no casualties or damages resulting from the incident.
Situation in Novorossiysk

Governor Kondratyev reported that during the night and early morning, a military-naval base in Novorossiysk was attacked by two naval drones. He said that the attack was successfully repelled.
"Our military forces repelled an attack by two surface drones in the waters of Novorossiysk this night and early morning," he wrote.
The local governor added that there were no casualties or damages reported, and all necessary emergency services were "working on the scene."
Explosions in Crimea and Novorossiysk on August 4

Last night, Crimean Telegram channels reported a series of explosions in the Feodosia - Primorsky area. Videos showing the operation of air defense systems were also published online, showing missile launches over the city.
There were also reports of explosions in the Armiansk region and air raid sirens in Dzhankoi.
Later, the head of Crimea, Oleg Kryuchkov, claimed that air defense systems were activated in several areas of the peninsula, and all objects were allegedly shot down.
Meanwhile, Russian social media began posting about the situation in Novorossiysk, along with photos and videos showing explosions over the Black Sea. Some images showed an explosion, presumably caused by a surface drone.

Explosions in Novorossiysk on August 4 (photo: t.me)

In November 2022, a similar incident was reported in this Russian city on the Black Sea coast when maritime drones allegedly attacked the "Sheshharis" oil depot in Novorossiysk, resulting in damage to the facility, according to Russian media reports.