Drone attacks reported in three Russian regions on September 1 - Details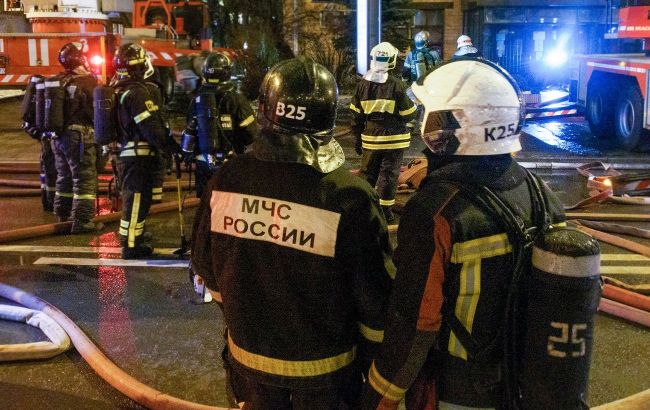 Drone attacks reported in three Russian regions on September 1 (Photo: Getty Images)
In the Russian regions of Moscow and Kursk, there have been reports of drone attacks on the morning of September 1st. As a result of these UAV raids, there is damage to buildings, according to the mayor of Moscow, Sergey Sobyanin, and the governor of the Kursk region, Roman Starovoit.
Moscow and Moscow region
In the capital of the aggressor country, it is claimed that one drone was allegedly shot down by air defense systems.
"Today, with the efforts of air defense forces, another attempt of a drone flight to Moscow was stopped near Lyubertsy," Sobyanin stated.
The Moscow mayor also added that according to preliminary information, there were "no casualties or damages" due to the event, and emergency services are on-site.
It should be noted that before this, the Moscow region had announced the plan "Kover" ("Carpet") and restricted takeoffs and landings at the Domodedovo and Vnukovo airports.
Kursk region
There are reports of two drones and damage to buildings due to strikes in the city of Kurchatov. In the tradition of drone attacks, the Russian side accuses Ukraine.
"Two Ukrainian drones attacked Kurchatov in the morning. An administrative building and a residential house were damaged," the local governor reported.
According to the official, experts have been dispatched to assess the extent of the damage, and "details are being clarified."
Belgorod region
Later, the governor of the Belgorod region, Vyacheslav Gladkov, also reported a drone attack.
According to him, the "air defense system worked," and there were "no casualties or damages."
Drone attacks in Russia
The largest drone attack on Russian territory occurred on the night of August 30th, when drones attacked six regions of the Russian Federation. One of the targets was the Pskov airfield, where, according to Andrii Yusov, a representative of the Defense Intelligence of Ukraine, four Il-76 planes were destroyed. Several more planes were damaged.
According to RBC-Ukraine, the operation was organized by the Defense Intelligence of Ukraine, but their involvement in reconnaissance has not been officially commented on yet.
Mikhaylo Podolyak, an advisor to the President's Office, stated that the strikes on Pskov indicate that the war is increasingly shifting to the territory of the terrorist country, and this process is irreversible.
Additionally, unknown drones were reported in the skies over Krasnoyarsk in the Moscow region on August 31st, as well as in Moscow on the night of August 31st, when airport operations were suspended again. Explosions and gunfire were also reported in Pskov on the night of September 1st. Later, local authorities stated that one drone had been detected, and they attempted to shoot it down.