Dome against drones: Ukraine develops electronic warfare complex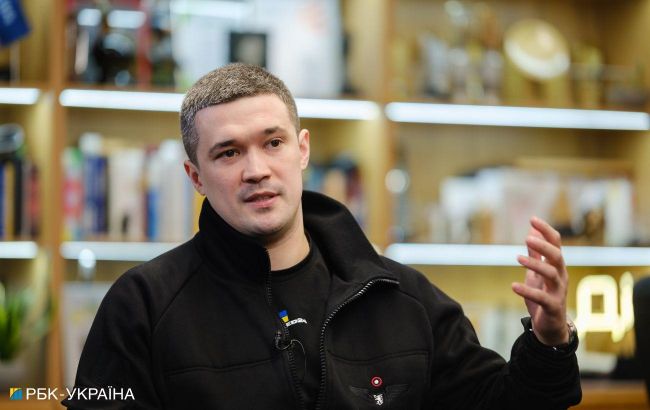 Ukraine's Minister of Digital Transformation, Mykhailo Fedorov (Vitalii Nosach, RBC-Ukraine)
Ukraine is developing radio-electronic warfare technologies with the government program Brave1, according to Ukraine's Minister of Digital Transformation, Mykhailo Fedorov.
Fedorov announced that Piranha AVD 360 is a unique electronic warfare complex to enhance defense capabilities. According to the minister, this technology helps protect armored vehicles and personnel more effectively against enemy drones.
"The complex creates a protective dome around itself up to 600 meters. Under the system's influence, a copter or kamikaze drone cannot receive commands or transmit data. As a result, the drone either hovers in the air, makes an emergency landing, or falls uncontrollably," he explained.
According to Fedorov, Piranha also disrupts satellite navigation systems, such as the Russian GLONASS.
"Currently, the system has successfully passed field trials and is ready for mass production. Technologies and innovations are the key to our victory. They help us destroy the enemy more effectively and save the lives of our military," the minister adds.
Production of weapons in Ukraine
On September 29, the first International Defense Industries Forum (DFNC1) took place in Kyiv, bringing together 252 companies from over 30 countries. The forum featured tank manufacturers, artillery, drones, ammunition producers, developers of innovative software, and owners of unique advanced technologies from partner countries and Ukrainian state and private defense industry enterprises.
During the forum, Ukrainian President Volodymyr Zelenskyy announced the creation of an alliance of defense industries and a special defense fund. This fund will be filled with money from Russian assets and dividends from state defense assets.
In total, 59 foreign companies from 23 countries around the world have already joined the Alliance of Defense Industries initiated by Ukraine.