Detention of Crimean Tatars - Ministry of Foreign Affairs' reaction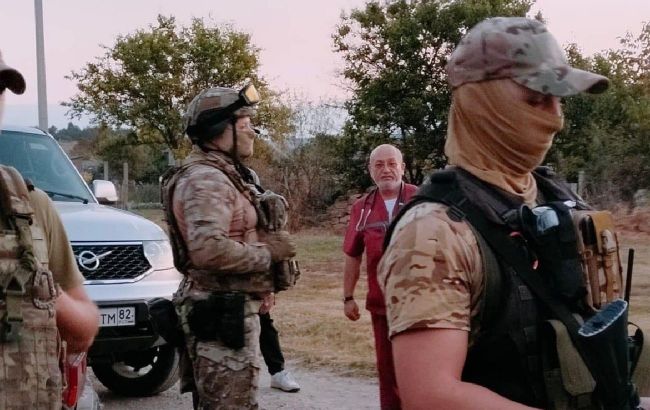 The Ministry of Foreign Affairs responds to the detention of Crimean Tatars in Bakhchisarai (photo: facebook.com/crimeansolidarity)
In Crimea, the Russian FSB detained six Crimean Tatars, and over 20 people who came to support the detainees received administrative offense reports, according to the Ukrainian Ministry of Foreign Affairs.
The Ukrainian Ministry of Foreign Affairs commented on the searches that took place on August 24 and clarified that the actions of the occupiers affected six Crimean Tatars: Remzi Nimetulayev, Ruslan Asanov, Seidamet Mustafayev, Ametkhan Umerov, Eldar Yakubov, and Abdulmedzhit Seitumerov.
"The latter is the brother of two Crimean political prisoners from Bakhchisarai, who were arrested in March 2020 and sentenced to 14 and 17 years in prison. All those detained are activists of the 'Crimean Solidarity'," the Ministry of Foreign Affairs noted.
The next day, within 12 hours, the occupation authorities in Crimea drew up over 20 reports against activists who came to support those detained.
"At the police station, all detainees were issued summonses. Among those detained was 64-year-old Remzi Zudiyev, the father of journalist and human rights defender Lutfie Zudiyeva, a person with several documented chronic illnesses who was denied the opportunity to take his required medication," the Ministry of Foreign Affairs added.
Today, the "court" issued decisions regarding the detention of a number of activists for terms ranging from 4 to 7 days.
The Ministry of Foreign Affairs condemned the persecution of Ukrainian citizens by the occupation administration of Crimea on completely fabricated charges. In addition, the ministry called on the international community, including participants in the International Crimean Platform, to continue exerting pressure on Russia with the aim of "immediately releasing all Ukrainian citizens illegally detained by the occupation regime in Crimea and imposing sanctions on officials involved in the persecution of Ukrainian citizens."
The detention of Crimean Tatars in Bakhchisarai
On August 24, around 4:00 AM, law enforcement officers conducted searches at the homes of activists from the "Crimean Solidarity" group and relatives of political prisoners in Bakhchisarai.
Prior to this, activists had been repeatedly detained during protests in support of other Crimean Tatars who were being tried in politically motivated cases.
On August 25, three of those detained were remanded to pre-trial detention center No. 2 in Simferopol, and later sentences were expected to be announced for three more Crimean Tatars.