Russians conduct large-scale searches of Crimean Tatars in Bakhchisarai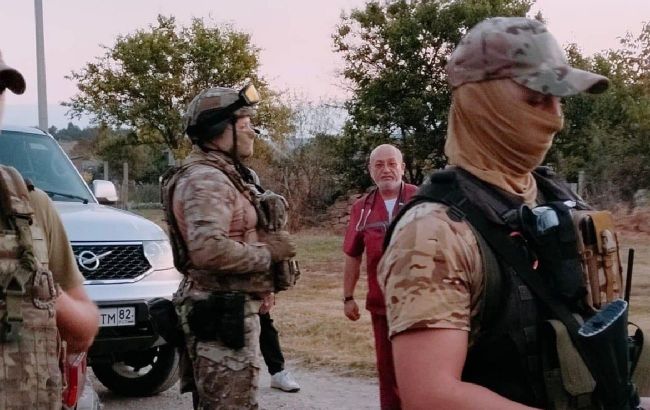 The Russians are searching the homes of Crimean Tatars (Photo: facebook.com/crimeansolidarity)
Russian occupiers are conducting large-scale searches in Bakhchisarai and the Bakhchisarai district of occupied Crimea. The Russians are searching the homes of Crimean Tatars, according to the "Crimean Solidarity" group.
According to reports, the occupiers have conducted searches targeting activists of the "Crimean Solidarity" and relatives of political prisoners.
Searches are being carried out at the homes of Ruslan Asanov, Seydamet Mustafaev, Remzi Nemetulaev, Abdulmedzhit Seitumerov, Ametkhan Umerov, and Eldar Yakubov. As of the morning of August 24, several activists have been detained by the Russians and taken to occupied Simferopol.
Human rights defender Mumine Saliyeva noted that the occupiers followed their usual scenarios, using repression and pressure to suppress positions and beliefs.
The wife of activist Eldar Yakubov reported that Russian security forces arrived in the morning, confiscated phones and tablets, and then took her husband away.
"... they read out a protocol, in which Article 205.5 was mentioned, and they read out several surnames. The investigator was Dmitriy Alekseevich Kostin. They also searched for my husband's documents - passport and educational documents. They confiscated two tablets and my husband's phone. The children were suffering from a viral infection, coughing and crying a lot. The older son had a temperature 39, so we called an ambulance. They said they took my husband to Frank Street in Simferopol," the woman recounted.
Russians conduct searches of Crimean Tatars (photo:facebook.com/crimeansolidarity)
Russia's repressions
Previously, Russian occupiers have intensified terror and repression against Crimean Tatars and citizens of Crimea. Earlier, ombudsman Dmytro Lubinets stated that Russia unlawfully holds 180 political prisoners. Most of them are Crimean Tatars.
The Center for National Resistance has also reported that the Russians are conducting so-called "counter-diversion measures" aimed at citizens disloyal to the Russian authorities in Crimea.