Destroying specific targets: commander of the Georgian Legion spoke about their tasks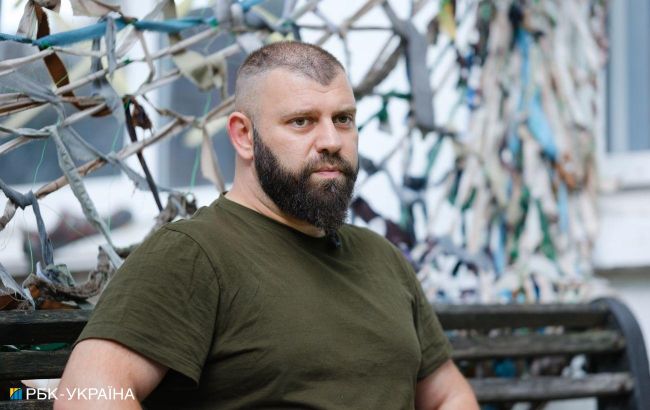 The head of the Georgian Legion, Mamuka Mamulashvili (Photo: RBC-Ukraine, Vitalii Nosach)
The Georgian Legion was created in 2014. During the full-scale war, the fighters of Ukraine's most significant foreign formation are engaged in special operations, the head of the Georgian Legion, Mamuka Mamulashvili, revealed in an interview with RBC-Ukraine.
He explained that he created the Georgian Legion when he came to Ukraine in April 2014. According to him, one of the ideologists of the Legion was his father, a military general.
"Just seeing what was happening, he told me, 'You should go and help Ukraine in the war.' There was no war yet. We understood the circumstances developed, and it was not difficult to predict that Russia was preparing for a war against Ukraine," said Mamulashvili.
The fighter recalled that in 2014, he was already in Ukraine with his like-minded people. They then formed a small group of professional military personnel who assisted Ukraine and started training the Armed Forces of Ukraine, various brigades, and police battalions. They immediately joined the hostilities upon their arrival in Ukraine.
The Georgian Legion consists of small mobile groups engaged in special operations, primarily targeting specific objectives. This includes Russian army officers and special military equipment located on the frontline.
Mamulashvili added that the Georgian Legion is currently the most significant foreign formation in Ukraine, comprising not only Georgians but also 30 other nationalities. It includes Americans, English, and Mexicans, among others.
The fighter noted that representatives of other countries do not create their groups because it is not easy to do so.
According to him, the Georgian Legion has been involved in structuring processes since 2014, which can be challenging to understand for newcomers.
Additionally, the Legion has experience working with various nationalities, and practically until the creation of the International Legion, it was the only one that attracted foreign volunteers.
Many foreign volunteers, including Georgians, fight against Russia in Ukraine.