Mamuka Mamulashvili: Ukraine gave Georgians an opportunity to avenge their fathers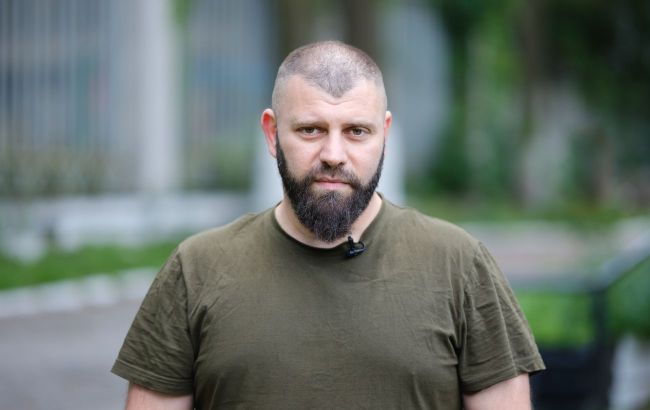 Mamuka Mamulashvili (Photo: Vitalii Nosach, RBC-Ukraine)
In an interview with RBC-Ukraine, Mamuka Mamulashvili, the head of the Georgian Legion, shares his opinion on why Ukraine has not yet been admitted to NATO and draws parallels with the situation in Georgia, the attitude of Georgians toward their own government, and the nature of the Russian army.
The Georgian Legion has been fighting against Russian occupiers in Ukraine since 2014. Over this time, a small group of Georgian soldiers has grown into the largest foreign military formation that fights alongside the Armed Forces of Ukraine. Today, the legion consists not only of Georgians but also includes Japanese, Americans, English, and Mexicans.
Mamuka Mamulashvili has been fighting against Russians since he was 14 years old. As a child, he participated in military actions in Abkhazia and was imprisoned along with his father. Later, he pursued education as a diplomat abroad. However, witnessing Russia's attempts to occupy neighboring countries, Mamulashvili decided to postpone his diplomatic career and continue fighting alongside those opposing the Russian army, wherever it may be happening.
On why Ukraine was not admitted to NATO
In 2008, during the NATO Summit in Bucharest, the question arose whether to admit Ukraine and Georgia into the Alliance. At that time, NATO members were not ready to invite both countries into the North Atlantic Alliance. A few months after the summit, Russia invaded Georgia.
"I was once told not to mention the countries that specifically hindered Georgia and Ukraine, allegedly, it is politically incorrect. Those countries were Germany and France. I am more of a soldier than a politician. I think someone has to speak the truth. France and Germany hindered us from stopping the war. And we see the consequences of that today, in 2023."
Today, according to Mamulashvili, the world is repeating the same mistakes by not inviting Ukraine to NATO, even though the Alliance directly states that Russia, which invaded Ukraine, is the main enemy of NATO. Besides, many countries continue to maintain trade, economic, and diplomatic relations with Russia.
"Even Belgium. Its trade turnover with Russia increased by 180% since the start of the full-scale invasion. You could say that some are using the war in Ukraine for their benefit. Such a policy is indifferent. This Europe's indifference began in Georgia and continues in Ukraine.
On the eve of the interview, Mamuka Mamulashvili participated in a session of the European Parliament, during which he called on EU members to be brave and respond to Russia's challenge.
"Admitting Ukraine to NATO requires a great deal of courage. It is a brave act. People are inherently cowardly and cannot make the necessary decision to save lives, even though many people are dying. That is the essence of the politics surrounding Ukraine."
According to Mamulashvili, the EU and NATO countries continue to fear Russia, but the specific reasons for this fear are unknown.
On Mamulashvili himself and the Georgian Legion
Mamuka Mamulashvili has been fighting against Russia since the age of 14. In his teenage years, he was with his father in Abkhazia, where a war was unfolding. During the military actions, Russian occupiers, fueling separatist sentiments among the residents of Abkhazia, took Mamuka and his father as prisoners.
"The Caucasians treated us very respectfully when we were captured. I mean the Chechens. When they saw that a father brought his son... The propaganda back then told them that Georgia practically supported Russia's position. Many of them were confused; they didn't understand why they had come to Abkhazia when they saw that practically kids were fighting alongside them."
The prisoners were tortured, mainly by Russian officers. The Abkhaz people themselves didn't harbor hatred toward Georgians – the animosity was artificially created through Russian propaganda. It was during that time that Mamulashvili first heard about Ukrainians.
"I remember our bus with soldiers, we were moving from one location to another, and along the way, a few elderly women asked us for a ride on the bus. We were sitting on the bus, they were talking about something, and I was sitting next to them. I remember it like it was today – they said, 'Ukrainians have come to help us, and now we will definitely win.' Those words stuck with me."
Choosing his profession, Mamulashvili decided to pursue diplomacy as an alternative way of waging war. He studied abroad but realized that diplomatic tools don't always work. For example, when fighting against Russia, relying on diplomacy makes no sense because the Russian leadership doesn't know how to keep its promises, no matter how they may be backed. When Russia invaded Ukraine in 2014, Mamuka decided to continue his father's military cause and fight against Russians wherever they may be.
Initially, the Georgian Legion consisted of small groups of soldiers, but gradually, they grew to become the largest foreign military formation in Ukraine. Today, the legion includes soldiers from about 30 nationalities. They carry out tasks to eliminate Russian army officers and their equipment. Additionally, the Georgian Legion fighters were the first to encounter the Russian army in Hostomel at the beginning of the full-scale invasion. Many soldiers had already faced Russians during the wars in Georgia, Abkhazia, and South Ossetia. The Georgian soldiers are no longer surprised by the Russian methods.
"By now, we have experience in dealing with what the Russians do. What, unfortunately, surprised many Ukrainians in Bucha didn't surprise us anymore. It psychologically affected many soldiers because they remembered the combat actions in Abkhazia, but it wasn't a shock to us. We had seen it before in Georgia."
Speaking about the motivation of his fellow Georgians, Mamulashvili notes that most Georgians seek personal revenge.
"Many of them had their relatives killed, their fathers died or some family members were lost during the war in Abkhazia. So, for many guys, it's personal. Many have this motivation, and I don't hide it. For some, it's very personal. In this case, this is what they are doing in Ukraine. Ukraine has given them the opportunity to avenge their fathers."
On Georgia and the Russian Army
The Russian army does not evolve and employs the same methods of warfare as decades before – "meat" attacks and mass bombardments with a large number of projectiles produced by the USSR. In addition to this, Russian military forces are incapable of engaging with a proper army and thus resort to combat actions against civilian populations.
"Russia is unable to fight against any civilized army; it has always fought against civilian populations. It intimidates, violates, tortures, and kills. That is the style of the Russian army. There were professionals in the Russian army, but during the first three months of the war, they ceased to exist. Now, we are dealing with quantity."
According to Mamulashvili, in Russia, they will try to mobilize more resources, but fear has already emerged in Russian society. The army itself no longer has professionals among its ranks – they were eliminated in the first months of the full-scale war.
Meanwhile, the Ukrainian counteroffensive is ongoing. This process is lengthy and complex – over a year and a half of war, the Russians have created several defensive lines that are difficult to overcome quickly. To expedite the liberation process of their territories, the Ukrainian Armed Forces need about one and a half thousand ATACMS missiles.
At the same time, Georgian society opposes the pro-Russian government, which is under the Kremlin's control.
"I would say that 100% of Georgian society is anti-Russian and anti-government. Unfortunately, we received a pro-Russian government, and after the era of reforms came a period of economic decline and, in principle, moral decline because the government is trying to suppress the spirit of the Georgians. The sooner they understand that this is impossible, the better."
Georgians, according to Mamulashvili, are ready to defend their independence, and officials fear the wrath of the people. As for the situation with Mikheil Saakashvili, according to the Georgian military personnel, the state is applying repression against the former President of Georgia – practically killing him on live television.
Meanwhile, the Russians continue to travel to Georgia and other countries that previously suffered from the hands of the Russian army because they have no self-respect. Moreover, the significant presence of Russians in other countries represents a danger primarily to the sovereignty of those countries since the Kremlin can at any moment claim that the rights of Russian speakers are being violated, and this notion will find support in the so-called "diasporas."
"Russians are people who have absolutely no morality. No matter how they try to present it, they are a criminal gang, including any representative of Russian society. We have not only seen this in Georgia, but we have seen it in different countries, how they are treated, and that does not stop them from going and vacationing in such places. This is Russia."
For decades, propaganda has instilled in Russians the belief that they are the "chosen people" and have the right to decide for other states how they should progress. According to Mamulashvili, this belief is a "moral deformity," and therefore, the process of pushing Russia out of the civilized global community is inevitable. There are no "good Russians," he reckons; they are the same imperialists pretending to be liberals.
After Ukraine's victory in the war, internal processes will begin in Russia, leading to the disintegration of the federation into parts. This is inevitable because the Russian Federation is an artificially created state comprising different ethnic groups with nothing in common and held together by fear of the most totalitarian system.
Ukraine's victory is also Georgia's victory, as it will begin to rid itself of Russian influence and restore its sovereignty.
The Georgian Legion calls for contributions to support the repair of its fleet of vehicles and the urgent needs of the fighters.
The goal is 400,000 hryvnias.
PrivatBank: 4149439301009795
send.monobank.ua/jar/6DwN6EdP3N
"We have been with you since 2014, and we'll stay until the end. Glory to Ukraine!"