Defense of Hostomel airport - An intelligence officer reveals details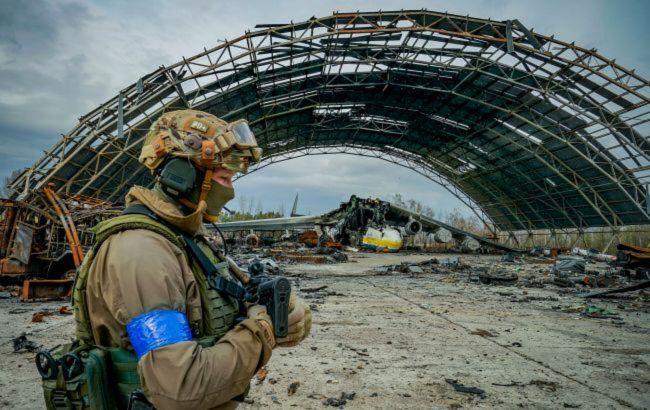 Photo: Main Intelligence Directorate revealed unknown details of the battles for Antonov Airport (Getty Images)
According to the Main Intelligence Directorate of the Ministry of Defense, the Antonov Airport in Hostomel near Kyiv was defended by National Guard and Military Intelligence forces of the Ministry of Defense. The defenders resisted the so-called "elite" units of the Russian Airborne Troops.
According to the Military Intelligence Directorate, the Antonov Airport in Hostomel became a crucial point in the battle for Kyiv. If the Russians had succeeded in implementing their plan to quickly capture the airport and deploy a parachute landing with armored vehicles, there would have been a high probability of the capital being occupied.
The Military Intelligence Directorate was aware that Hostomel was a likely place from which the invasion of Kyiv would be launched. On the first day of the invasion, February 24, 2022, the Military Intelligence Directorate and National Guard units, responsible for the airport's defense, took up their combat positions.
"Of course, it was terrifying when such a fleet of helicopters starts attacking you, and two planes were also working against us. The helicopters were flying in circles, causing damage," he added.
The Military Intelligence Directorate soldier emphasized that the Defense Forces inflicted significant losses on the enemy. During the battles, National Guard units shot down several enemy helicopters, and reconnaissance teams destroyed a helicopter over the Kyiv Sea while another one was "forced to land." However, no Russian aircraft managed to land at the Antonov Airport.
Why is Antonov Airport important?
The State Enterprise Antonov Airport in the town of Hostomel is strategically important as it is located just 10 kilometers away from Kyiv and is capable of handling military aircraft. The capture of the airport in Hostomel could have significantly expanded the capabilities of the Russian occupiers, who aimed to take control of the capital of Ukraine within three days.
It is worth noting that Russian forces retreated from Hostomel at the end of March 2022 after their offensive towards Kyiv failed, and subsequently, they also withdrew from the Kyiv region.