Czechia discloses details about military aid transferred to Ukraine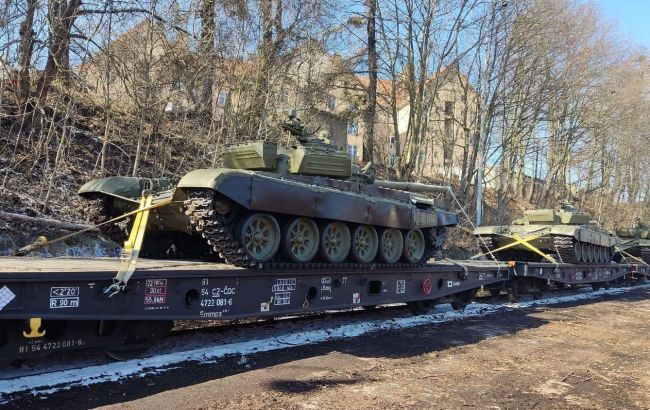 Czechia discloses details about military aid transferred to Ukraine (twitter.com/sentdefender)
As part of defense assistance, Czechia has transferred military equipment to Ukraine from its army reserves since the beginning of the large-scale Russian invasion. The total value of the transferred equipment is over 6 billion Czech crowns, which is more than 240 million euros, according to Radio Prague International.
According to the list released today by the Ministry of Defense of Czechia, among the equipment transferred to the Ukrainian Armed Forces are tanks, infantry fighting vehicles, and self-propelled howitzers of Soviet production, as well as modern weaponry, including aviation equipment.
Previously, the list of weapons and ammunition provided by Prague to Ukraine was not disclosed.
Among other things, the list provides the following:
4 Mi-24 Hind 2005 and 2006 helicopters,
62 tanks manufactured in 1968, 1977, 1985-1989, 1993,
13 self-propelled howitzers produced between 1980 and 1986,
131 IFVs made in 1973-1989, as well as in 1993 and 1999,
4.2 million rounds for small arms,
128 mortars produced from 1971-79,
17,400 mortar shells.
The list also includes other types and models of defense assistance, as well as medical supplies and drugs.
The supplies were sent between February 2022 and October 2023.
Czech assistance to Ukraine
Czechia is ready to help Ukraine implement several points of the Peace Formula aimed at ending the war with Russia.
At the end of September, the Czech Ministry of Defense announced that the country would transfer the license for the production of assault rifles to Ukraine, called the CZ BREN 2.
In mid-October, it was announced that Czechia, along with Denmark, would supply Ukraine with IFVs, combat tanks, heavy weaponry, and other equipment in the coming months, both newly manufactured and from the warehouses of Czech private companies, at the expense of the Danish government.
The Czech Senate recently extended the mandate for the military training of Ukrainian soldiers until the end of 2024.