Counteroffensive by Ukrainian Armed Forces - Video of tank duel in Zaporizhzhia region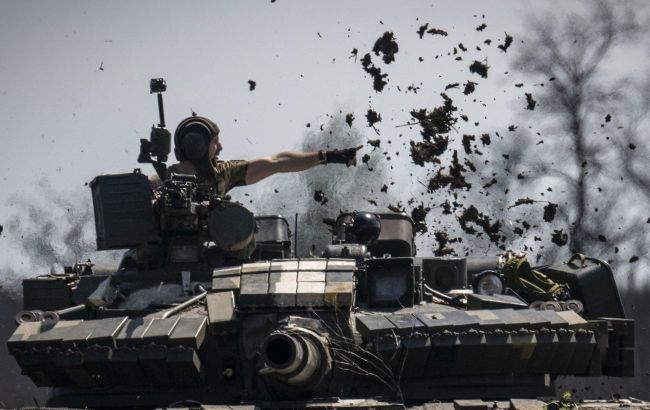 In the Zaporizhzhia region, the Ukrainian Armed Forces have destroyed an enemy tank (photo: GettyImages)
In the Zaporizhzhia region, Ukrainian Armed Forces soldiers engaged in a duel with an enemy T-72B3 tank and successfully destroyed it, according to a video published by the Ministry of Defense of Ukraine.
The video, captured by a drone, shows two tanks engaging in a duel, with only a few meters and a trench separating them. Ukrainian soldiers on the T-64BV proved to be more agile than their counterparts in the T-72B3 tank, as they managed to disable the enemy vehicle. The video clearly shows two explosions.
It is noted that this duel took place in the Zaporizhzhia region, and the video was recorded by soldiers from the 128th Mountain Assault Brigade.
A tank duel.
A Ukrainian T-64BV knocked down the occupiers' T-72B3 at close range.

128th Mountain Assault Brigade pic.twitter.com/9TPB098aAZ

— Defense of Ukraine (@DefenceU) September 20, 2023
Successes of the Ukrainian Armed Forces on the southern front
Recently, Ukrainian Defense Forces were able to liberate the village of Robotyne in the Zaporizhzhia region from Russian forces. Following this, according to ISW reports, they managed to expand the breakthrough in the vicinity of the settlement. In the latest report by analysts, it was mentioned that the Ukrainian Armed Forces had advanced closer to Verbove.
Additionally, the Commander-in-Chief of the Armed Forces of Ukraine, Valerii Zaluzhnyi, held a meeting with the commanders and leaders of the operational-strategic group of troops "Tavria" to discuss advancements on the southern front.