Consequences of third consecutive night attack revealed: destruction in Mykolaiv, fire in Odesa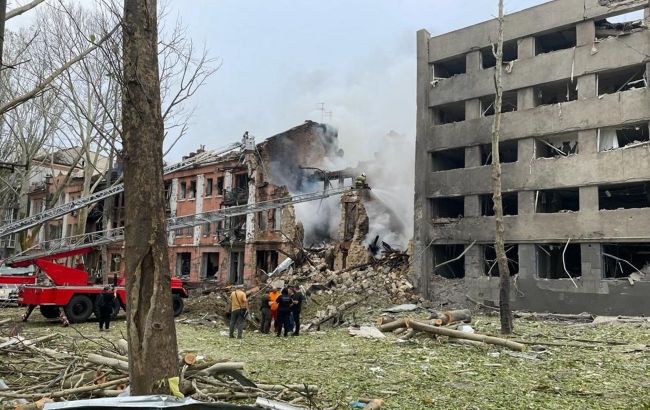 Consequences of the second consecutive night attack by Russians on Ukraine (Photo: t.me/UA_National_Police)
Russian forces have launched a third consecutive massive combined attack on Ukrainian cities using cruise missiles and kamikaze drones. Explosions rocked Odesa, Mykolaiv, and Sumy, resulting in destruction, fatalities, and injuries.
Warnings of imminent air attacks began to surface in southern and central regions shortly after midnight. The Ukrainian Air Force command was alerted about the launch of kamikaze drones from various directions, as well as the use of "Kalibr," Kh-22, and "Onyx" cruise missiles from the Black Sea.
Subsequently, reports emerged about the operation of anti-aircraft defense systems in several regions, with sounds of explosions also reported.
Russian media claimed that the massive missile attacks were in response to the explosion on the Crimean Bridge and Russia's exit from the "grain deal." However, the Ukrainian Armed Forces refuted this conspiracy theory, stating that the Russian forces had been preparing for these nighttime attacks for some time due to a shortage of cruise missiles and kamikaze drones.
Attack on Odesa
The occupiers conducted a combined strike on Odessa and surrounding areas. Initially, there were reports of two injuries. It was later confirmed that a Russian attack caused a fire covering an area of 300 square meters in central Odesa. The number of injured increased to four individuals.
Natalia Humenyuk, a spokesperson for the Operational Command South, reported that the occupiers used missiles of various bases in the attack, along with a submarine and strategic aviation, which took turns over the Black Sea.
"The strikes targeted logistics facilities, including warehouses," she added.
New photos of the destroyed administrative buildings in Odesa
Massive shelling in Mykolaiv
Russian forces launched a series of strikes on Mykolaiv using missiles and armed drones. Vitalii Kim, the Head of the Mykolaiv Regional Military Administration, reported that the attack resulted in 18 people being injured, nine of whom were hospitalized, including five children. Two individuals were rescued from under the debris. Initially, five casualties were reported. Kim also stated that there were fatalities as a result of the night attack.
Mayor Oleksandr Senkevych mentioned that a massive crater appeared near a three-story residential building due to an explosion at one of the addresses.
"The fire is severe. Emergency services of the State Emergency Service are already working on-site. Many damaged buildings are around. Our municipal services will work in the morning. Several garages are on fire in another location, and the firefighters are extinguishing them," he added.
He later reported that at least five multi-story residential buildings suffered damage to windows, doors, balconies, and ceilings, leaving them without electricity. Additionally, around 15 garages were damaged at another location.
Updated information on the aftermath of the attack in Mykolaiv
As reported by Vitalii Kim, the head of Mykolaiv Regional Military Administration, the missile strike resulted in the destruction of several floors of a three-story building, causing a 450 square meter fire, which was extinguished by firefighters at 07:45. Rescue operations are ongoing to search through the debris. Adjacent multi-story buildings have also suffered damage from the impact.
Additionally, three garages caught fire, but were promptly extinguished. Around 15 garages were damaged, and windows were shattered in several nearby high-rise buildings due to the blast.
In total, the rocket strike in Mykolaiv has left 19 people injured. Eight individuals sought medical attention, with two of them being hospitalized, including a child.
The situation remains tense as authorities assess the full extent of the damage and attend to those affected by the attack.
The Prosecutor General's Office and the State Emergency Service of Ukraine provided photos of the aftermath of the night attack on Mykolaiv.
Photo: aftermath of the night attack on Mykolaiv July 20 (t.me/pgo_gov_ua, t.me/dsns_telegram)
Shahed drones attack on Sumy and Chernihiv regions
Throughout the night, there were multiple reports of explosions in Sumy. The Telegram channel of the Sumy Regional State Administration confirmed the activity of Ukrainian anti-aircraft defense forces in the region.
Subsequently, it was revealed that around 01:30 AM, three Shahed 136 unmanned aerial vehicles targeted the city of Sumy. One of the drones was shot down, while another was neutralized by the Ukrainian air defense. The third drone struck a building housing an extracurricular health facility, causing significant damage to the establishment, which subsequently caught fire.
Emergency medical services responded promptly to the scene and provided assistance to the healthcare personnel at the facility. As of now, the fire has been extinguished.
Later, the State Emergency Service of Ukraine showcased the aftermath of the attack on the children's camp.
In a night of intense military actions, Russian forces launched drone kamikaze attacks on Semenivka, Chernihiv region. Residential buildings were hit, and the number of casualties is still being confirmed. Evacuation of residents is currently underway.
Russians launched 19 missiles and 19 drones
Russians' attacks targeted the southern regions, hitting ports, docks, residential buildings, and commercial networks.
According to the Ukrainian Air Force command, a total of 38 projectiles were fired by the enemy, comprising 19 cruise missiles and 19 drone kamikazes:
7 "Onyx" cruise missiles from the coastal missile complex "Bastion" (Crimea).
4 Kh-22 air-launched cruise missiles launched from eight Tu-22MZ aircraft (Black Sea area).
3 "Kalibr" sea-launched cruise missiles, likely fired from a submarine (Black Sea area).
5 "Iskander-K" land-based cruise missiles (Crimea).
19 "Shahed-136/131" combat drones from two directions - southern (Chauda, Crimea) and northeastern (Kursk).
In response, the Ukrainian Air Force, in collaboration with other defense units, successfully neutralized 18 aerial targets:
2 "Kalibr" sea-launched cruise missiles.
3 "Iskander-K" land-based cruise missiles.
13 "Shahed-136/131" combat drones.
Occupants hit Vovchansk this morning
The violence continues, with reports of Russian occupiers launching attacks on Vovchansk, Chuhuiv district, resulting in the tragic death of a 40-year-old civilian.
Russians' shelling of Ukraine
These incidents are part of a series of increased night assaults on peaceful cities in Ukraine, mainly targeting the southern regions. Just yesterday, on July 19, Odessa and its surrounding areas bore the brunt of severe destruction. Numerous casualties were reported, including significant damage to residential buildings, ports, and critical infrastructure, leaving nearly 3,000 people in the region without electricity.