Consequence of war unleashed by Russia: Sandu on S-300 missile fragments in Transnistria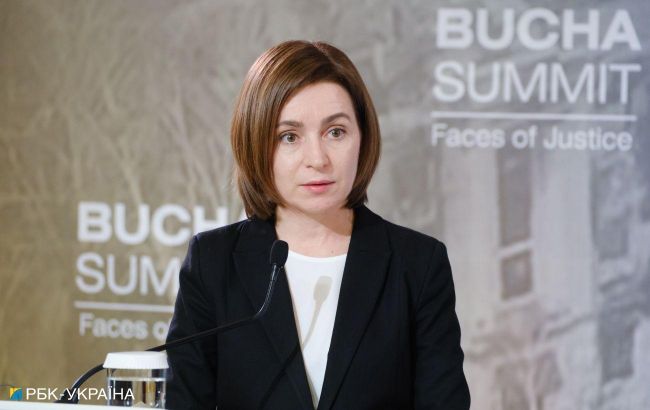 Maya Sandu (Photo: Vitalii Nosach, RBC-Ukraine)
The discovery of debris from an S-300 missile on the territory of the unrecognized Transnistria happened due to the war led by Russia against Ukraine, according to Moldova's President Maia Sandu.
Chisinau cannot conduct a thorough investigation into the circumstances of the missile crash in Kitskany because it fell in a region where representatives of constitutional authorities are not allowed, according to President Maia Sandu.
"I have the same information that was discussed in the Ministry of Defense and other state institutions. We cannot verify on the ground what happened there because it happened in the Transnistrian region," explained the President.
At the same time, the head of state emphasizes that bombings and missile attacks are a consequence of the war unleashed by Russia in Ukraine.
"This happened because of the war. Bombs and missiles fall because there is a war going on in Ukraine unleashed by Russia. This is clear to everyone," concluded Sandu.
Background
Today, in the unrecognized Transnistria (part of Moldova's territory), fragments of an S-300 missile were found.
As reported by the media, the debris had fallen in one of the towns in the village of Kitskany. According to preliminary data, there were no casualties.
"Moreover, a combat part of the missile entered the ground but did not explode. The explosion occurred at around 1 a.m.," News Maker specified.
Shelling of Ukraine on September 25
Russian occupiers attacked Ukrainian cities last night with various types of missiles and strike drones. An air raid warning was sounded throughout the country. As a result of enemy attacks, there were damages and fires in Odesa and Kryvyi Rih. A woman was also injured.
More details about the consequences of the attack can be found in RBC-Ukraine material.