Commander of Armed Forces thanked pilots for the strike on Kerch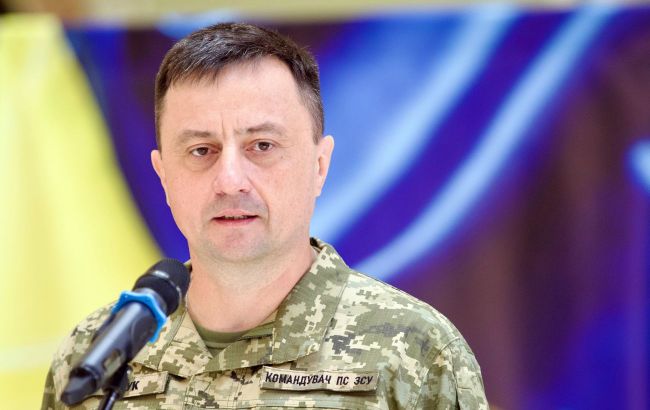 Commander of the Armed Forces of the Ukrainian Armed Forces Mykola Oleschuk (photo: Getty Images)
The Commander of the Ukrainian Air Force, Lieutenant General Mykola Oleschuk, expressed his gratitude to the pilots for their successful strikes on Kerch, according to his statement.
"I hope another naval vessel followed 'Moskva'! While we await official confirmation of the results, I would like to once again thank the tactical aviation pilots of the Air Force for their successful missile strikes on the shipbuilding plant Zaliv in Kerch," he said.
The Commander of the Armed Forces added that one of the most modern ships of the Russian Black Sea Fleet, equipped with Kalibr cruise missiles, was located on the plant's territory.
"Well done, they swept through it like a SCALPEL," he emphasized.
Additionally, the Commander of the Armed Forces thanked the air defense units of the East air command for shooting down the Iskanders that were launched in response.
At the same time, Yurii Ihnat, the Spokesperson of the Air Forces Command of the Armed Forces of Ukraine, stated that the ship that was hit in Kerch had not even participated in navigation yet.
"It was undergoing some final trials so it could then go out and fight against our state," he said.
Ihnat emphasized the need to wait for the final results to see if this ship, as usual, followed Moskva or if something else happened.
Strikes on Kerch
On November 4, the Armed Forces of Ukraine successfully struck the maritime and port infrastructure of the Zaliv shipbuilding plant in temporarily occupied Crimea. This information was confirmed earlier by the Ukrainian General Staff (StratCom).
The Telegram channel Krymskyi Veter reported that the shipbuilding plant in Kerch may have been targeted, possibly impacting a small missile ship of Project 22800 Karakurt.
For more details on the attack, you can read the article by RBC-Ukraine.