Checking the music: Occupiers escalate repression against Ukrainians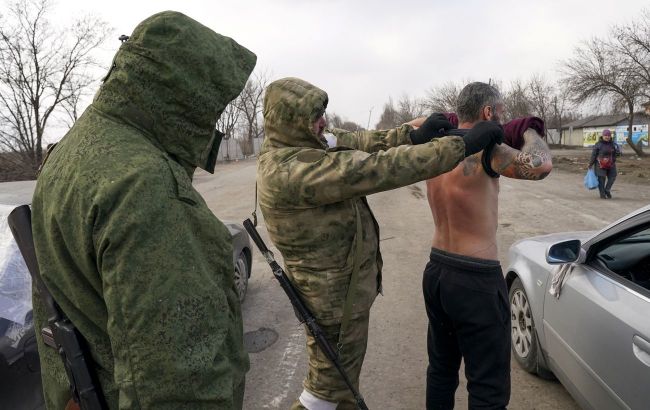 The Russian occupiers on the temporary occupied territories initiate phone inspections, threatening for listening to Ukrainian music (Photo: Getty Images)
The Russian military has entered a new stage of repression against Ukrainians on temporarily occupied territories. The occupiers are now conducting inspections of phones to find any Ukrainian music, informs Ivan Fedorov, the Mayor of Melitopol.
"Faced with continued resistance in the seized territories, the occupiers seem to be resorting to extreme measures," said Fedorov.
The Mayor reported that previously, the occupiers searched Ukrainian citizens' phones for evidence of cooperation with the Resistance Forces, then scrutinized their messenger communications to find anything to accuse them of "terrorism."
However, according to Fedorov, the Russian military is now carefully examining photos and music.
"They even force people to delete archived photos with the Ukrainian flag and threaten them over Ukrainian songs they call 'Nazi'," he explained.
Situation on temporarily occupied Ukrainian territories
The Russians on the occupied territories are targeting pro-Ukrainian residents. They subject them to interrogations, threats, and even violence.
The Russian military is intensifying counterintelligence measures in the temporarily seized Mariupol of the Donetsk region, searching for Ukrainians who aid the Ukrainian Armed Forces.
Furthermore, the occupiers in the temporarily occupied part of the Luhansk region hunt down vehicles with Ukrainian license plates and compel owners to change them.
Specifically, the invaders also prohibit Ukrainians in the occupation from communicating with relatives residing in territories controlled by Ukraine.
Moreover, they continue to pillage and exploit civilian infrastructure in the occupied territories. For instance, they have turned a maternity hospital into a military hospital in the Luhansk region. In addition, the occupiers are converting children's camps into hospitals in the Luhansk region.