Cautios optimism: Zelenskyy's Office on Biden-Xi meeting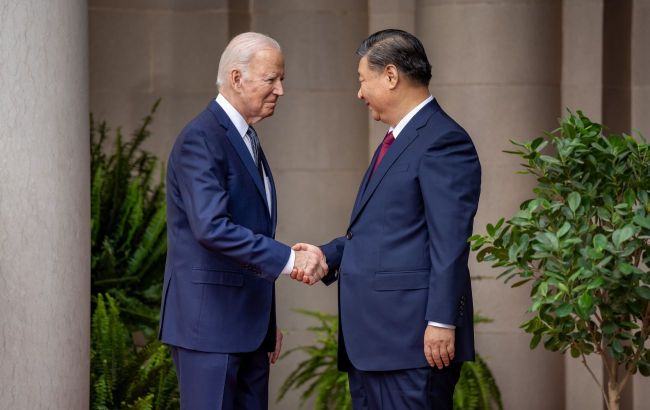 Photo: U.S. and Chinese Presidents Joe Biden and Xi Jinping (White House Twitter)
Yesterday's meeting between U.S. and Chinese Presidents Joe Biden and Xi Jinping in San Francisco was a good signal to the world and demonstrated the desire for a new global order and stability, stated Mykhailo Podolyak, Advisor to the Head of the Office of the President of Ukraine, on his Telegram.
Assessing the talks between the US and Chinese leaders on the sidelines of the Asia-Pacific Economic Cooperation summit on Wednesday, Podolyak expressed "cautious optimism."
"This is a great signal to the world: dialogue instead of confrontation, a new global order, binding rules, stability and predictability," Podolyak thinks.
He also sees the talks between the US and Chinese presidents and the conclusion of a number of agreements as evidence of Russia's complete loss of influence on global processes at the global level.
"And secondly: Russia has been finally removed from the list of those who really influence global processes. Russia is almost a non-subject," the Presidential Office representative said.
The reason for this, according to Podolyak, is that the Kremlin relies on chaos, destruction, and support for violence as a foreign policy tool, and "has a disgusting reputation that gets everything dirty."
"All this is of no use to those who want to see horizons, the future, mutual restrictive rules," Podolyak concludes.
Biden and Xi Jinping meeting
Yesterday, November 15, the U.S. President and the Chinese leader met on the sidelines of the Asia-Pacific Economic Cooperation Summit in San Francisco. The leaders had a meeting that lasted about four hours at the historic Filoli residence.
As a result, the leaders of the United States and China signed a number of agreements and discussed the Russian war against Ukraine and the situation around Taiwan.
Read more about the expectations from the talks between the leaders of China and the United States in the article Biden-Xi Jinping meeting: what to expect from the summit in San Francisco.