Cargo vessel with grain leaves Ukraine's Chornomorsk first time in two months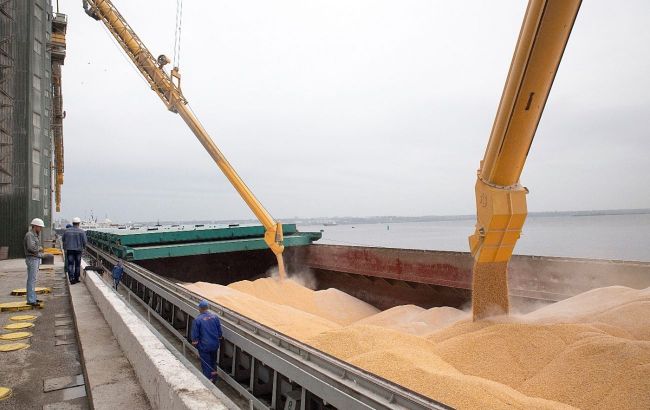 A ship with grain leaves Chornomorsk (Getty Images)
A cargo ship loaded with grain has departed the Ukrainian port of Chornomorsk for the first time since Moscow withdrew from the grain agreement in July, according to Reuters.
Last month, Ukraine declared the creation of a "humanitarian corridor" in the Black Sea to release ships that had been stranded in its ports since Russia's invasion in February 2022 and to bypass the effective blockade that followed Russia's exit from the safe grain export deal.
The dry bulk carriers Resilient Africa and Aroyat arrived in Ukraine on September 16 and were scheduled to depart after loading nearly 20,000 tons of wheat destined for Africa and Asia.
According to Vice Premier Oleksandr Kubrakov, the ship Resilient Africa, carrying 3,000 tons of wheat, has left the port of Ukraine's Chornomorsk and is heading towards the Bosporus.
Kubrakov wrote on Facebook that this is the first of two ships that entered the port of Chornomorsk last week through a temporary corridor established by the Ukrainian Navy for civilian vessels. The second ship is in port loading Ukrainian wheat for Egypt.
Breaking the blockade
The departure of the vessel marks a test of Ukraine's ability to reopen maritime routes as Russia seeks to reimpose an effective blockade.
Moscow has repeatedly targeted Ukrainian grain export infrastructure with missile strikes and drones.
Over the past year, three Black Sea ports, including Chornomorsk, shipped tens of millions of tons of grain under an agreement brokered by the United Nations in July 2022 during the Russian invasion.
Five of the stranded ships in Odesa have already left the port, using the temporary corridor that covers the western coast of the Black Sea near Romania and Bulgaria.
The Black Sea grain deal was brokered by the UN and Turkey in July 2022 to address the global food crisis exacerbated by Russia's invasion of Ukraine. Ukraine and Russia are among the world's largest grain exporters.