Canada imposes new sanctions against Russia: Courts placed under restrictions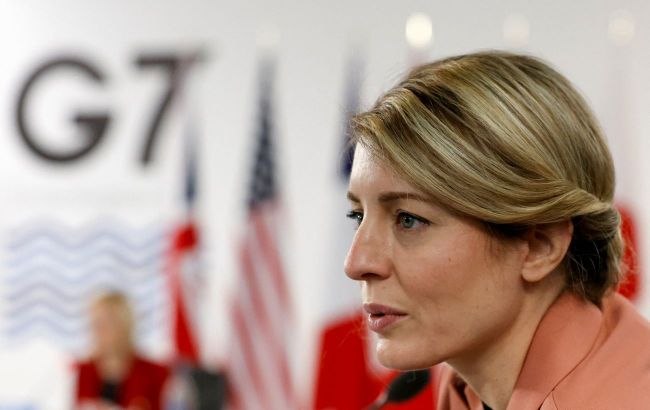 Minister of Foreign Affairs of Canada Melanie Joly (Photo: Getty Images)
Canada has today, on August 18, imposed a new package of sanctions against Russia. Three courts in Moscow have fallen under restrictions, according to the Ministry of Foreign Affairs of Canada.
"Canada is imposing new sanctions against 15 Russian individuals and 3 entities under the Special Economic Measures (Russia) Regulations in response to the rising levels of human rights violations and state-sponsored violence faced by political opponents and critics as Russia attempts to repress internal dissent," stated Melanie Joly, Minister of Foreign Affairs of Canada.
According to her, Russia is attempting to suppress internal dissent in this manner.
Who is affected by the restrictions
The Canadian Ministry of Foreign Affairs specified that the individuals and entities subject to sanctions held senior positions in the Russian government, judicial and investigative committees, as well as federally-funded courts.
It is known that the following are affected by the restrictions:
Basmanny District Court of Moscow;
Khamovnichi District Court of Moscow;
Moscow City Court.
These individuals were directly involved in human rights violations against leaders of the Russian opposition, including Vladimir Kara-Murza, Alexei Navalny, and other Russian citizens.
"The Putin regime has repeatedly demonstrated its willingness to use all means possible to silence political opponents and critics and to violently repress internal dissent. This has been particularly true since Russia's full-scale invasion of Ukraine on February 24, 2022," said Minister Joly.
Sanctions by Canada against Russia
In July, the Canadian government imposed new sanctions against individuals and companies associated with the Russian military-industrial complex.
Additionally, Canada introduced new sanctions against newly established "organizations" in the territories of Ukraine occupied by Russia. These include the so-called ministries and funds.