Canada demonstrates trainings of Ukrainian military medics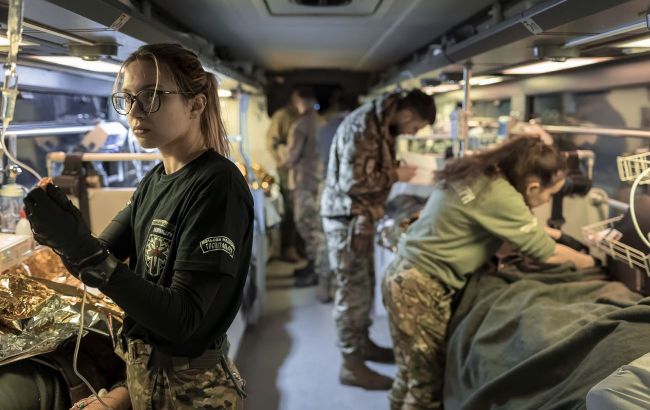 In Canada, they showed how Ukrainian military medics are being trained (photo: Getty Images)
"The introduction of spectacle, sounds, and a sense of urgency enhances the effectiveness of combat medical training conducted by the Canadian Armed Forces for the Armed Forces of Ukraine during Operation UNIFIER," the statement reads.
Canadian military personnel, as part of Operation UNIFIER, have been imparting various skills to over 37,000 Ukrainian military personnel since 2015. After the onset of Russia's full-scale invasion of Ukraine, Canadian instructors temporarily left Ukraine, but the training process was resumed in the United Kingdom, Poland, and Latvia within a few months.
Додавання видовищ, звуків та відчуття терміновості підвищує ефективність бойової медичної підготовки, яку медики @CanadianForces (Збройних сил Канади) проводять для Збройних сил України під час операції #ОпЮНІФАЄР. pic.twitter.com/pHdQIW91SO

— CAF with Ukraine (@CAFwithUkraine) September 13, 2023
Canada's military aid for Ukraine
From the early days of Russia's full-scale invasion, Canada has increased its military support for Ukraine. In early July, Canadian Prime Minister Justin Trudeau announced a new package of support for Ukraine and the strengthening of transatlantic security, which includes cameras for drones.
On June 10, the Canadian government also announced that it would transfer an additional 287 AIM-7 Sparrow missiles and 10,000 155-millimeter caliber projectiles to Ukrainian military forces.
Furthermore, Canada has provided the Ukrainian military with Senator armored vehicles, which are highly mobile armored vehicles produced by the Canadian manufacturer Roshel.
Additionally, Canada has joined a coalition of nations created to train the Ukrainian Air Force in operating and maintaining F-16 fighter aircraft.