Bridge collapsed in Ukraine's Carpathians: casualties reported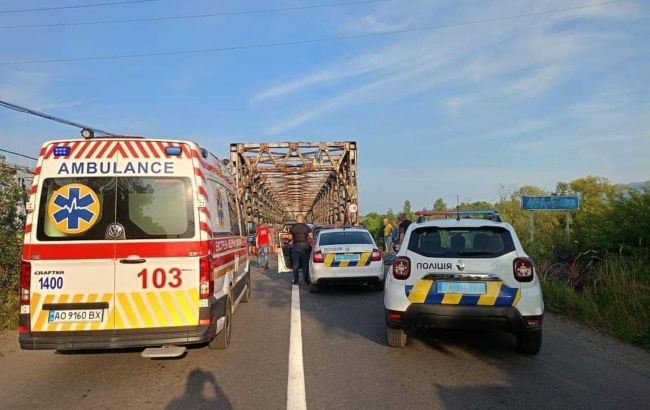 A bridge collapsed today in the Zakarpattia region (t.me/zoda_inform)
A bridge collapsed today in the Tiachiv district of the Zakarpattia region of Ukraine. According to the local Regional State Administration, three individuals have been injured as a result.
The police were alerted about the collapse of a transportation bridge on the Mukachevo-Rogatyn highway in the Bedevlia settlement at approximately 7:00 pm today.
Preliminary information suggests that one section of the bridge collapsed, involving two vehicles - a truck and a car.
"The collapse of the bridge in the Tiachiv area resulted in injuries to three individuals, who are currently receiving necessary medical assistance," stated the Regional State Administration.
Emergency response teams have been dispatched to the scene, and the head of the local administration has also arrived at the site.
According to authorities, the cause of the incident was attributed to the excessive load carried by the truck while crossing the bridge, significantly exceeding the permissible weight limits.
"A car was also on the bridge at the same time. It overturned, and all three passengers sustained injuries of moderate severity," revealed Myroslav Biletskyi, the first deputy head of the Regional State Administration.
As a result of the bridge collapse, traffic diversions have been implemented through the following locations: Kryva - Ternovo - Neresnytsia - Vilkhivtsi - Bedevlia.
Recently, two people were reported to have tragically lost their lives in Greece due to a bridge collapse at the entrance to the city of Patras.