Breakthrough innovation in space travel: Toilets with Earth views in tourist capsules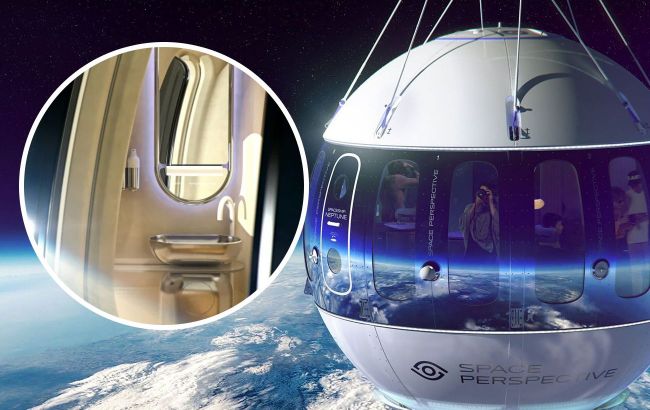 What will space toilets for tourists look like? (Collage RBC-Ukraine)
Soon, space travel will become a reality, and companies are already planning the transportation, amenities, and even toilets for tourists. The space tourism startup, Space Perspective, has decided to develop a comfortable cabin with a view of Earth to ensure convenience and comfort for space travelers.
RBC-Ukraine, based on CNN material, provides details on how these unique space toilets in capsules for space travel look.
What do the capsules look like
The Florida-based company plans to take tourists to an altitude of about 30 km to the edge of space using a sealed capsule suspended from a high-tech balloon.
These flights will last at least 6 hours, so a restroom is needed on board the capsule.
The co-founder and one of the CEOs of the company, Jane Poynter, along with her team, decided that the toilet on board the capsule should have a view. To Earth.
The concept by designers Dan Window and Isabella Trani shows a bathroom with a large window that provides a view of the stars and the Earth's curvature.
According to Poynter, the bathroom is designed for travelers to reflect on their space excursion.
"It's going to be almost overwhelming at certain points. So we wanted to create a space where people could go to take time for themselves for a moment," she emphasized.
The cabin will have large window blinds - not so much for privacy (there's no one around), but in case travelers want a secluded space.
There will be a special seat cushion on the toilet in case someone just wants to spend some time in the cabin alone.
The working name of the cabin is Space Spa, but at this point, there is only a toilet and a sink on board the capsule. Developers claim that potentially they may be able to add more, including a hydro-massage bathtub.
What space toilets look like on capsules for space travel (screenshots from the Space Perspective website)
What we know about space tourism
Several companies plan to start trips to space as early as 2024. Space Perspective and other similar companies won't take tourists directly into space, but only to its edge.
In other words, these capsules won't reach suborbital space but will ascend much higher than any average plane. This ensures a fantastic view of the Earth and stars without experiencing zero gravity or the sensation of weightlessness.
Space Perspective plans to launch the first groups of 8 people by the end of 2024. The company has several stages of travel development to complete at the moment.
The cost of the trip is $125,000, and even though there's no exact start date yet, all available spots have already been sold.
By the way, we previously wrote about what a lunar house created for a space project looks like.