Lunar house created as part of a space project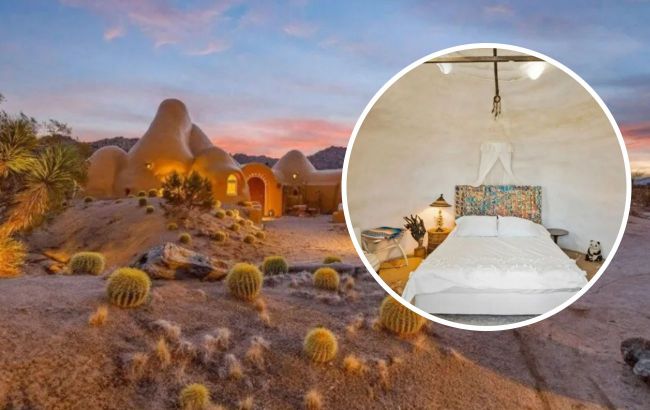 What a unique house in the California desert looks like (collage: Styler)
In the California desert, there is a unique house often referred to as an "alien" house due to its unconventional, whimsical design. It was constructed using technology originally developed for NASA's space habitats. This extraordinary structure is currently listed for sale with an asking price of $2.8 million, according to Real estate.
What a unique little house looks like
The house was constructed in 2014 based on the designs of Nader Khalili, the founder of the architectural style known as SuperAdobe. The unique aspect of this technology is that structures are built using bags filled with earth and barbed wire.
In the 1980s, Khalili received a commission from NASA to develop space habitats, which led to the creation of the distinctive SuperAdobe style.
The house features 125 square meters of living space, spread across three main domes. The largest dome contains two bedrooms, a living room, a kitchen, and two bathrooms.
An independent separate dome houses two additional bedrooms, a studio space, and a shared bathroom.
Here is what a house built in the style of SuperAdobe looks like (photo: realtor.com)
The house has a total of 5 bedrooms and 3 bathrooms. The property also includes an outdoor kitchen and barbecue area, a fire pit, a swimming pool, and even a small shrine.
In the listing description for the house, real estate agents write that "this sophisticated structure will give you a sense of magic, as if you've just been transported to another planet."
Despite its otherworldly appearance on the outside, the interior of the house is entirely conventional, providing all the necessary amenities for comfortable living.
A SuperAdobe-style house is for sale for $2.8 million (photo: realtor.com)
What is the peculiarity of the SuperAdobe style
In developing his style, Nader Khalili proposed to NASA the use of lunar soil to fill plastic Superadobe tubes, with special adhesives instead of barbed wire. However, such buildings have not yet appeared on the Moon.
Buildings in this style were constructed in the mid-1990s for refugees in Iran during the Persian Gulf War, but the camp was closed by the government a few years later. Since then, the Superadobe method has been applied in Canada, Mexico, Brazil, Belize, Costa Rica, Chile, Iran, India, Russia, Mali, Thailand, and the USA.
Superadobe structures typically have a diameter of 4 meters, and larger buildings are created by grouping several domes together.